Trio of Chinese teams climb ladder, EG join up top

Vici Gaming and Team DK stormed through the second day of the group stage as they both won all four of their games. Meanwhile, yesterday's better teams in Cloud9, Liquid and Na`Vi.NA all had more losses than wins today.
The Chinese teams climb the ladder as we finish the second day of the group stage. Vici Gaming, DK and Invictus Gaming are among the top four teams, with VG and DK finishing the day with spotless records. Joining them on the top four is Evil Geniuses, who had a 3-1 record today.
Last year's champion Alliance bounced back from a dismal 1-4 first day performance with a 3-1 score, but that is only good enough to boost them into a tied 9th-11th place. No team will finish without a single win this year, as Arrow Gaming finished the day with two straight wins after dropping their first eight.
While those teams have strong performances, others have hit a slump. Yesterday's leader in Cloud9 dropped from 4-1 into 5-4, with their only win today coming against Liquid. NA teams in Liquid and NA`VI.US, both with shared second place position yesterday, also had a bad playday as they both lost more matches than what they have won.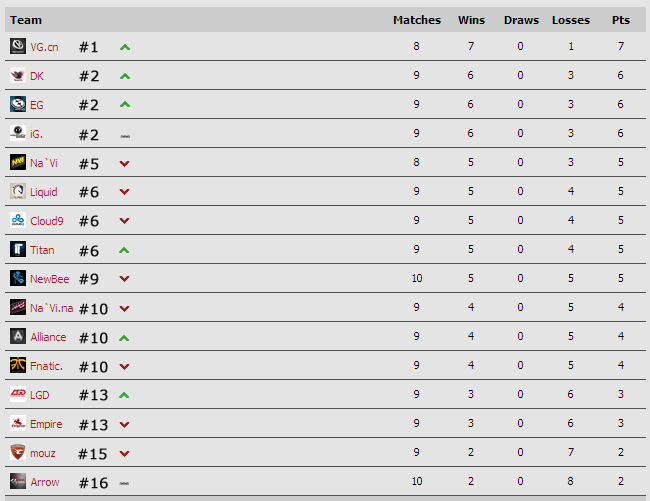 With more than half of the games played already, we can see that the standings are starting to take shape already. Any of the teams currently in the top six still have good chances on reaching the coveted first and second place rank, which is a guaranteed 5th/6th finish or $630,000 in prize. Current leader Vici Gaming has a rough schedule ahead of them, with five of seven upcoming opponents currently sitting within the top eight.
The third to sixth positions are also as important, and these very same teams are the candidate for that. Finishing within the top six after the groups means a guaranteed top eight finish on TI4, which means a trip into the main event and at least half a million dollars cash prize.
The bottom part is a battle of survival. The top six teams will get eliminated outright, while places 7-10 will fight each other for main event slots. Among the bottom six teams at the moment is the defending champion of The International, Alliance.
Theoretically, no team is eliminated yet and every team still has a chance to make it into the main event.
---
It's the holy grail of The International 4 coverage!

Highlight cliips are aviailable on our YouTube channel. You can also visit our wiki page for more information on The International 4.