Invictus Gaming enters WPC-ACE finals, defeats NewBee 2-0

Invictus Gaming is the first team to advance into the grand finals of WPC-ACE as they defeated NewBee in straight games. They will be awaiting the winner of the DK-Alliance series to know which one they will face in the best-of-seven championship.
Invictus Gaming had a convincing 2-0 victory against NewBee, with the latter not looking anything like the streaking team that they were. iG was impressive in both games, taking full control and having both Ferrari and Luo not sparing a death in both matches.
They have now advanced into the best-of-seven championship scheduled tomrrow, on which they will be facing the winner of the DK-Alliance semifinals match later. The winner of this tournament will receive $161,000~ in cash prize.
Round 2 - Best of 3
Round 3 - Best of 7
Head over to our event page for WPC-ACE.
Game 1
Bans
* This player was a stand-in for this match
Both teams have strong middle-game presence, with iG hoping for a strong push with their Nature's Prophet and Brewmaster and NB looking for sustained teamfights with heroes like Dark Seer and Necrophos. iG got an ideal start as they claimed first blood just 43 seconds into the game as Rubick and Visage looped around to help kill Necrophos.

iG also secured the next three kills of the game, racing off to a 4-0 start before they gave up a death. NB was leading the experience graph despite of this because of the better performing offlane in Dark Seer and the efficient jungling of Doom. The winning team of The International 2 made good use of their line-up which required less levels to click as they took down towers without any contest from the enemy. They used that momentum to win a battle up top as they dived past the enemy tier-two tower,killling four enemy heroes and losing none.
NewBee's carry in Mirana was very underfarmed, and iG was claiming heroes and towers at will. The latter took down the top melee barracks basically unchallenged, and they later on picked off two heroes before taking a go at the middle lane. NB tried to defend, but they failed badly and called GG as soon as their first hero died on that base defense.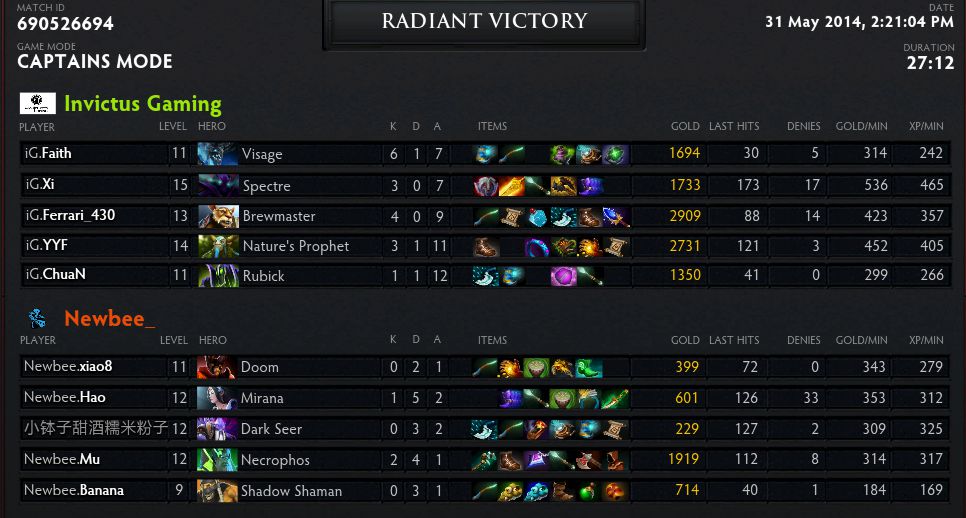 Game 2
Bans
* This player was a stand-in for this match
Its a battle of dual-lanes on game 2. iG had a Lifestealer-Leshrac duo, while NewBee had a Brewmaster-Visage pair. The offlanes were handled by Nature's Prophet and Bristleback, while the remaining two for each team were on the farming lane. NB had a surprising last pick with a Bloodseeker. NewBee had the better start this time around, with Nature's Prophet sniping the courier and the team taking first blood.
iG's line-up is much more potent early, and that they used to take the game's next three kills. The only bright side for NB this time is that they were able to let Bloodseeker farm, as both Bristleback and Invoker were all rotating to help secure kills for their team. NewBee was putting the pressure on with their pushing presence, but they made a crucial mistake of diving for the Bristleback. Despite managing to kill that hero, they lost four heroes because they can't bring down their target quiickly enough. Because of this and the tier-1 bottom tower they took after, iG suddenly found themselves ahead by 10,000 gold.

The Bloodseeker pick is starting to hurt NB, and they cannot do much to make something happen. They had two pickoffs to start a fight in the 19th minute, but that is the best they can get as they lost two heroes after. iG had an uncontested Rosh four minutes later, only to find themselves being annoyed by the split-pushing Nature's Prophet.
The game followed a very passive phase after that. From the 19th minute to the 50th minute, only two hero kills were registered. iG was playing very safe, and they eventually had overwhelming farm because of their map control. They cruised through the top and bottom lane, forcing their enemy to call GG.