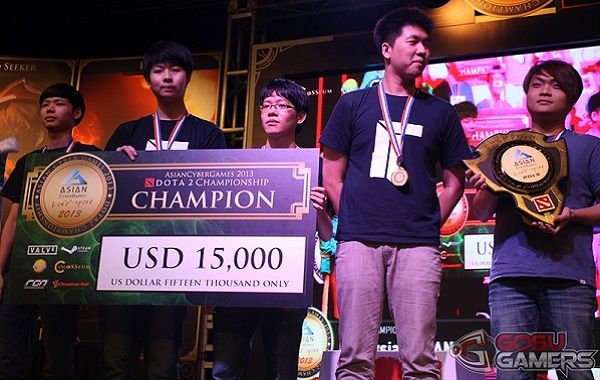 Titan sweeps Mineski, takes home ACG title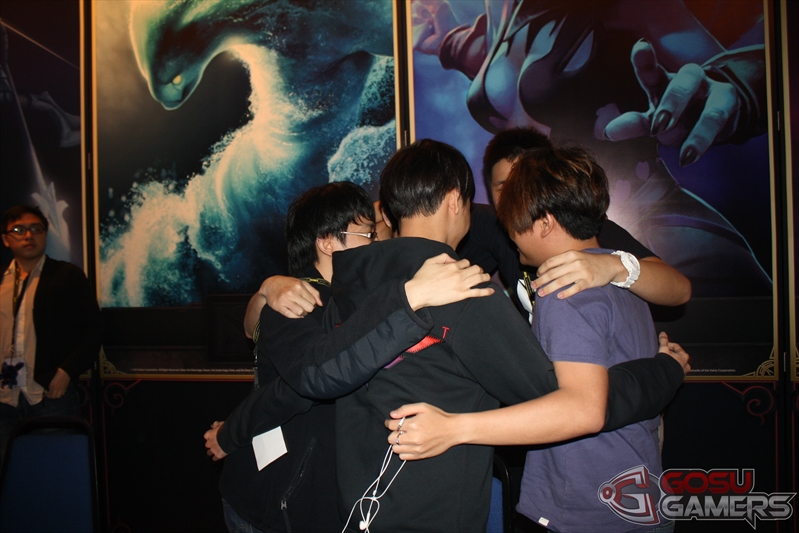 Starting the day with a lower bracket disadvantage, Titan has stringed together four consecutive kills to claim the title of Southeast Asia's finest. Mineski finished a respectable second place, while MiTH.Trust is placed on the third position.
Titan exacted revenge on Mineski, winning four straight games on the last day of the Asian Cyber Games Dota 2 tournament. They did it in quite dominating fashion, and there won't be anyone complaining if someone hails them as SEA's finest team at the moment.
Before this game, the teams have split their last ten games. Titan were really impressive, considering that they were playing with a stand-in on this tournament.

Game 1
Bans
* This player was a stand-in for this match
The Malaysian team is quite decided to play aggressively in this game, as evident by their first pick of Slark. They also chose another intelligence-based, global hero in a Tineker for YamateH. Mineski, on the other hand, looks determined to control the early game as they did on their earlier win against Titan, as they chose heroes with cheesy skill combinations.
Forget roaming duos, as Mineski walked around the map in threes to start the game. In fact, it was a perfectly chained Disruption-Split Earth-Ensnare-Sacred Arrow that secured them the first blood. They rotated on top and also managed to get a kill on the Lone Druid. Not to be outdone, Titan's world-renowned duo of XtincT and Net also scored kills for their team. XtincT was the one taking almost all the kills for his team, as we saw his Chen have a 7-0 kill score by the 10th minute of the game.
Titan raced to a big lead and decided that they will push the pace even more as they warded aggressively between the tier one and two towers. They paid for their aggression though, as they ended up losing four heroes. That was a slight breathing room for the Filipino team, with the gold and experience tipping 4,000 into their favor.
The momentum didn't carry on though as Titan started to press with their lead. There were little space for Mineski to farm as Tinker already had his Boots of Travel and dagger, and there was always the threat of Slark pouncing in. The graphs showed a massive slope downwards, and Titan was already leading by 12,000 gold on the 20th minute. If anything is good for Mineski, its that Naga is finally able to farm her Radiance at the 22nd minute.
Despite their big elad, Titan safely pushed through Mineski's base. They were able to take lanes without pushing themselves in harms way by using a blanket of march of machinese and a spirit bear sieging the front lines. Titan repeated this process until they were able to destroy all three lanes, and Mineski evenutally called GG.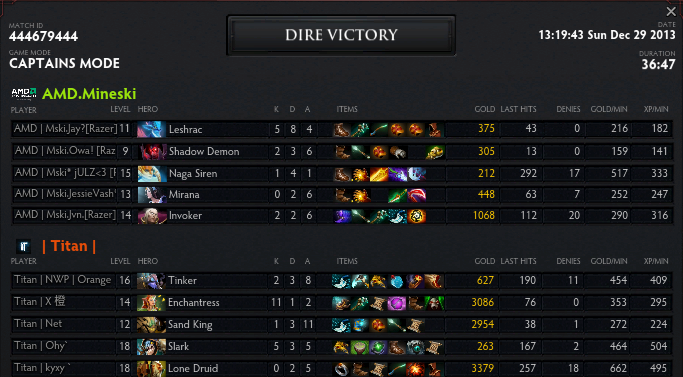 Game 2
Bans
* This player was a stand-in for this match
After three straight games playing against Mirana, it was Titan this time who chose that hero. Mineski, on their side, picked an Anti-Mage - the hero's first appearance on this tournament.
The early game wasn't good for Mineski, as they obviously lacked the damage to bring down Bristleback without hurting themselves. In fact, BB was able to kill Mineski's Sand King while he was running away. Titan again was racing off to a big early lead.
Mineski had a strong fight on the middle lane at the 13th minute, killing four heroes while not losing any. Not only did it decrease Titan's lead, it also gave the Filipino team a much needed confidence boost.
Three of Titan's heroes built Midas, all finished within the 16-minute mark. By that time, Anti-Mage has also just finished his Battlefury. Despite the big deficit, Mineski was able to hold their own on a big teamfight around five minutes later. They were almost able to run away with a big team wipe, but Naga Siren was able to hold them in place with the song.
Kyxy continued playing out of his mind, again very impressive on his hero, this time with Mirana. Titan continued pressing the game, and all their heroes all have higher net worth than all members of Mineski except for Anti-Mage. The last straw was a perfectly timed song-arrow combo, and Mineski called GG on the verge of losing another lane.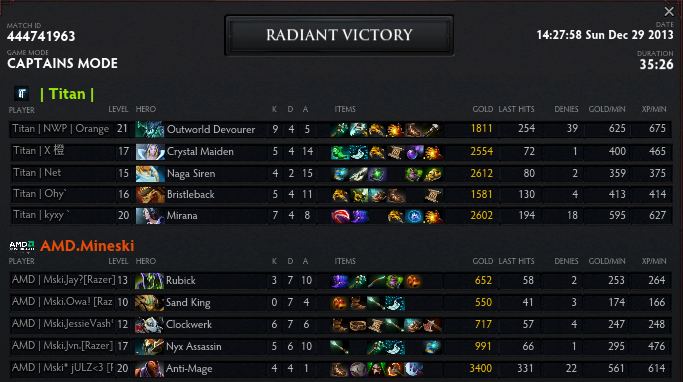 With the win, Titan has executed a clean sweep against Mineski today, and they claimed the title of Champion on the Asian Cyber Games Dota 2 tournament. 
Prize distribution:
1.  
Titan - $15,000
2.  
Mineski - $9,000
3.  
MiTH.Trust - $6,000