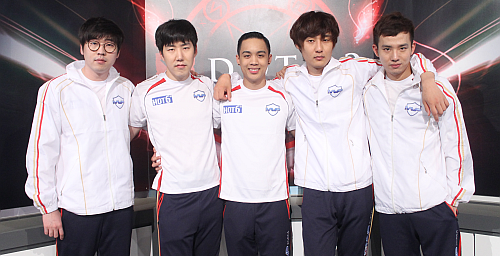 Blitz meets early exit in the hands of DeMoN at NSL season 2

L-R: March, Heen, DeMoN, Reisen, Forev. Photo by Hyungjin 'Core' Ahn.
The first phase of Nexon Sponsorship League S2 is over and four teams including fOu have been eliminated. The runner-up of last season lost their game against Jimmy 'DeMoN' Ho and MVP Phoenix.
Two days of Nexon Sponsorship League Season 2 has past and a total of four teams have been eliminated from the tournament, including last season's runner-up For Our Utopia. Alongside fOu are Nonstop Dominance, Virtual Throne and FULL TILT (previously known as NJ&Kids) who have disappointingly met their end early in season two.
The most hyped match in the first phase of the playoffs was without a doubt fOu versus MVP Phoenix. With both teams importing foreign celebrity - Jimmy 'DeMoN' Ho and William 'Blitz' Lee - to play the solo mid role, many thought that the game was going to boil down to who wins that match-up. DeMoN's Shadow Fiend was able to out-farm Blitz's Viper in the first game and that lane won did end up paving the way for MVP Phoenix's victory in game one.
In game two however, fOu was once again off to a bad start but they were able to slowly climb their way up in mid-game to fight on a level playing field with MVP Phoenix. This came courtesy of DeMoN's unnecessary deaths battle after battle, although he did constantly burst down Weaver before he dies. 35 minutes in, fOu was on the brink of equalizing MVP Phoenix in the scoreboard until a well coordinated fight by MVP Phoenix and a few mistakes by Febby's Weaver managed to put them far ahead. With that fight in the books, MVP Phoenix had a larger hold of the map and could control Roshan, and they used that to their full advantage to win game two.
From this point onwards, the tournament will be switching to a double elimination, best-of-five format. The next game is scheduled to be on the 7th of December with MVP HOT6 taking on EoT. MVP Phoenix will take on 5inQ, also playing with a foreign player (CyNiCaL-) on the team, on the 10th of December.
Upper Bracket
Round 2 - Best of 5
Round 3 - Best of 5
Lower Bracket
Round 3 - Best of 5
Round 4 - Best of 5
Final

Unfortunately, DeMoN did not throw hard enough. Photo from DeMoN's Twitter.