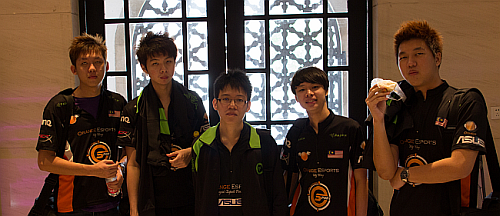 Orange loses Dota 2 squad
Orange, one of Malaysia's most prominent E-Sports organization in recent years, has dropped the four remaining players its Dota 2 squad. This announcement came a little over three weeks after the team's solo-mid player Chai 'Mushi' Yee Fung left the team for DK.
The relinquishing of the players came as a surprise. Despite having teams on several other game titles like CS:GO and HoN, it is with its Dota 2 team that Orange received worldwide recognition. The team finished a valiant third-place on the recently concluded The International 3, winning over the hearts of many fans because of their distinct playstyle and unique draft. That not only pushed the team's popularity among gamers, it also merited them an invitation from their country's Ministry of Youth and Sports.
Orange Facebook Announcement:
Orange Esports DotA 2.0 in the name of Orange Neolution had a great run in 2013. However, TI3 3rd placing and USD287k/5 prize money could not keep Mushi, Xtinct, Net, KyxY and Ohaiyo in the team. After Mushi left for DK, we are sad to announce the departure of Xtinct-Net-KyxY and Ohaiyo for a new sponsor – Team T*. We hope the new sponsor who promised to pay more than double of what we can afford (1 Euro = 4.3 Ringgit Malaysia; 1 SGD = 2.5 Ringgit Malaysia) will support them till TI4. As such, Orange Neolution could not join the WPC-ACE Tournament in China this weekend and have to reform the entire DotA team from scratch. We wish the XtincT-Net-KyxY-Ohaiyo+Ice ex-Orange Esports team the best in their endeavor.



To clear the air, Orange Esports did not make any monetary gain or get any transfer fees from the new sponsors or TI3. Yes, losing the 5-man team will be a net loss for us and our fans but we can accept it with grace.



Orange Esports believes in building and supporting the South East Asian Esports scene since its inception 2 years ago. Our DotA, CSGO and HoN teams are widely recognized as the leading & talented SEA team in their respective disciplines. You can expect us to assemble a new Orange Esports DotA 3.0 team of high caliber soon.
Orange has hinted that their four previous members will be playing under a new sponsor, and they labelled the new sponsor as Team T*. As from the statement, the new sponsor be paying twice of what Orange can afford. More information about that will be released as soon as it is made available.
Despite the loss, Orange seems resolute on forming up another Dota 2 team in the near future. Despite not playing for the team recently, Orange still has not announced the departure of their sixth-man Fadil 'Kecik Imba' Bin Mohd Raziff. The organization has also started holding a weekly amateur Dota 2 tournament, which they call the Rookie Cup.
The former members of the team had been on a break since their third-place finish at The International 3. However, they are currently participating on the October leg of Malaysia's GMPGL, with former Zenith player Chua 'Ice' Chee Cai filling in on the roster. Ice was also mentioned on Orange's Facebook message, along with the regards sent to the four other players.
Orange team roster:
Joel Zhan Leong 'Xtinct' Chan

Wai Pern 'Net' Lim

Kang Yang 'kyxy' Lee

Chong Xin 'Ohaiyo' Khoo
Source: Orange Esports Facebook