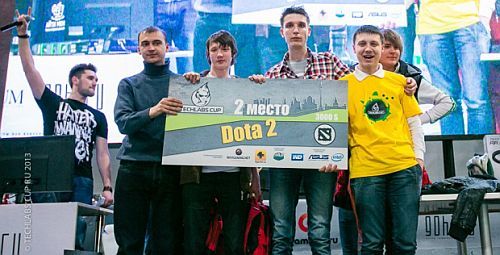 iCCup takes down VP to take remaining spot in Star Series Grand Final

iCCup redeemed themselves by defeating Virtus.Pro in the Lower Bracket Final. The underdogs will now head into the Grand Final of Star Series VI, facing off against Team Alliance after dropping down to the Lower Bracket in day 1 at the hands of none other than Virtus.Pro
Game 1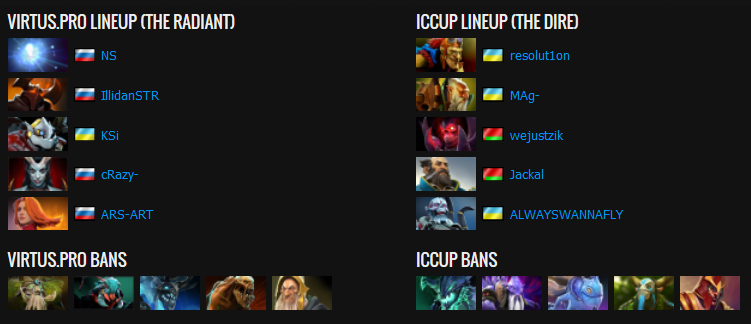 Both team opted for very aggressive line-ups in game 1 with CK + Wisp for Virtus.Pro and Kunka + Shadow Demon for iCCup. The Ukrainian team, however, made the mistake of buying two couriers at the beginning of the game and had to continue with a slight disadvantage for the supports. The first blood indicated an exciting game to come as 5 heroes clashed in mid lane and Shadow Demon went down, but iCCup also claimed QoP's life shortly after.
The game developed in typical CIS-style with team fights happening left, right and center. The kill score was racking up and eventually got higher than the game time, but neither team was able to pull ahead with a clear advantage heading into the late portion of the game. iCCup finally found an opening, picking off Illidan on the CK right outside his base without buyback. Spearheaded by the bear, they took the mid barracks and completely broke VP. Another fight down bottom lane saw iCCup overwhelmed the Russians and convincingly took game 1 after nearly 40 minutes.

Game 2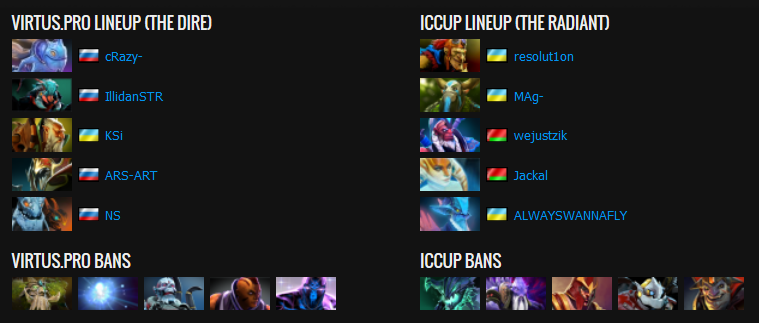 VP secured themselves the dual-core of Lone Druid and Weaver for game 2, while iCCup picked up Naga Siren for the hard carry role and Nature's Prophet as their second source of damage. First blood was claimed by iCCup just 3 minutes into the game when Lone Druid got Glimpsed into the welcoming arms of 3 heroes. While Weaver and Lone Druid struggled to find farms, iCCup had no problem forcing fights with their formidable magical damage output. Unlike game 1, Virtus.Pro made a very early mistake this time when Illidan decided to Shukuchi into the whole iCCup and not only did he give up his life, but the Lone Druid went down with him as well. However, the Russian squad quickly returned the favor and took a 4-1 fight on the top lane which grant them an Aegis.
A big team fight broke out shortly after Illidan's Aegis got reclaimed as Resolut1on managed to Lasso Puck and iCCup quickly took care of him before demolishing the rest of VP. Despite Illidan immediately buying back, he did not have enough damage to push back iCCup. The lack of damage on Weaver once again lost VP another fight and an Aegis because he could not finish off anyone on the Radiant side. Virtus.Pro's first set of barracks went down 43 minutes in after Puck got picked off right behind his Tier 3 tower. They immediately rotated towards mid lane, crushed VP and eliminated them from Star Series VI.
iCCup will now look to pull off the biggest upset possible when they tango with Alliance for the 1st place of Star Series season VI tomorrow. As for Virtus.Pro, they will have to settle for 3rd place after a somewhat lackluster performance in Kiev.
?
Star Series VI prizes

Placing

Teams

Prize money

1st place

 

$12,000

2nd place

 

$6,000

3rd place

Virtus.Pro

$3,000

4th place

Quantic Gaming

$1,500
StarLadder Star Series VI Coverage Hub
Check link for results, news, format and VODs