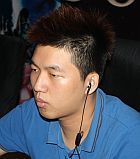 NeoES.Orange leads pack after five RGN League playweeks
NeoES.Orange is still the undisputed first placer after five weeks of play in RGN League. Zenith lost their second placing to Rattlesnake and RisingStars after they were defeated by TongFu at the opening game of the week.
Week five of RGN League has concluded and NeoES.Orange extended their dominating streak into five consecutive wins after taking down their sister team Neolution.Int on Saturady. NeoES.Orange is currently placed first trailed closely by Rattlesnake and RisingStars at 4-1 each.
RisingStars almost received a default loss earlier today in their game against Invasion-MUFC because the team asked for a reschedule on Sunday followed by a second reschedule on Monday. On the verge of a default loss, the team pulled together and played their game against the Malaysians today. RisingStars won that skirmish with more than double of MUFC's kill score.
Zenith on the other hand, despite an impressive start to the RGN League, lost their second placing this week after losing versus TongFu in the opening game of week five. NeoES.Int, MiTH-Trust and Mineski, the three bottom placers of the table, remain buried with all three teams losing their matches in week five.
Current standings:
Team
M
W
D
L
P

8
7
0
1
21

8
6
0
2
18

8
6
0
2
18

8
6
0
2
18

10
6
0
4
18

8
5
0
3
15

8
3
0
5
9

9
3
0
6
9

8
0
0
8
0

8
0
0
8
0
Matches and results