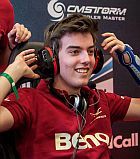 Mouz versus Next.kz to kick off The Defense 4 playoffs on 29th
Mousesports versus Next.kz will kick-off The Defense 4 playoffs on the 29th of June. Playoffs will be starting before the tiebreaker between Quantic and Evil Geniuses.
The Defense 4 playoffs' bracket is out and it is set to begin on the 29th of June. The first match of the playoffs will be between Mousesports and Next.kz in the loser bracket.
The playoffs will start before the eighth team in the playoffs is decided, this will be between Evil Geniuses and Quantic Gaming. Both the teams originated from Group B and tied one another at four wins and four losses each. The tiebreaker game will start just a few hours after the playoffs begin on  June 29th.
The teams who have placed first in their group will be starting out the playoffs in the winner bracket while the second and third placers will begin in the loser bracket.
Upper Bracket
Round 2 - Best of 3
Round 3 - Best of 3
Lower Bracket
Final
Rough schedule of the schedule of The Defense 4

July 9th-11th: LB Round 2 & WB Semifinals
July 16th-18th: LB Round 3 + 4 & WB Final
July 23rd-28th: LB Final & Grand Final
All the games will be played in a best-of-three format and be streamed live by TobiWan.
Check link for results, news, format and VODs
Source: joinDOTA