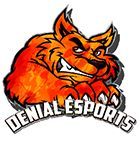 Denial eSports picks up Artyk Gaming
Two days after their victory in Bigpoint battle, Artyk will now officially be sponsored by Denial eSports. The Peruvian squad has attracted the sponsors' attention after their impressive performance during the past weeks.
The Peruvian squad Artyk has been a pleasant surprise these past few weeks. With their talent being easy to notice even by the least experienced DotA 2 fans, the South Americans have delivered consistent perfomances and stability throughout the past months and receiving more attention.
The most recent win in the Bigpoint Battle is proof of Artyk's, now Denial, worth. With most of the people taking the result of the final against Fnatic for granted, the Peruvians came and caught everyone off-guard, defeating Fnatic with ease and taking home the $1500 prize.
Other than BigPoint, Artyk has secured a spot in Dota 2 Canada Cup finals, and they are also placed third in American Dota 2 League. 
Artyk will now be represented by Denial eSports, an organisation well-known for their League of Legends squad.
This is the official statement from Artyk manager Hydra:
 
​"We are very happy to announce that we are getting picked up by Denial eSports .They are an organisation that works close together with their teams and they have experience in supporting them.Denial eSports is a very professional organisation to work with, they respect our goals for the future . We have been looking for an organization for quite some time, especially one that has the same goals like we do and that wants to grow with us as a team, and we have finally found them in Denial eSports . I want to thank my players for always giving their best and Denial eSports for going into the future with us."​
Denial eSports CEO Robby "Ringokid" Ringnalda states:
 
"We at Denial eSports are very happy to welcome Artyk Dota 2 to our team at Denial eSports. We have been movers and shakers since we started just over 4 months ago and now with our Dota 2 team disbanding we have been looking avidly for the last few weeks for a team doing exactly what we do. We found Artyk through our new Dota 2 manager Hydra and since the start of the conversation with the captain about our favorite color 'orange' the deal was sealed. We are happy to be working with a new team with good synergy, who is also causing a stir in the world rankings."
This is not Denial eSports' first venture into the Dota 2 scene. The North-American gaming clan has already had a Dota 2 team, formerly known as Eosin+4. In addition, the gaming clan is currently sponsoring the Rosh Pit tournament, hosted by DotaCinema. 
Source : Denial Esports