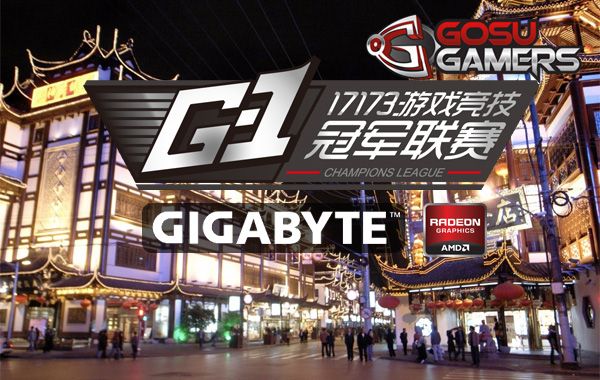 GosuGamers is going to China
Shanghai picture by Yoshinari Yoshikawa
GosuGamers will be heading to China for the G-1 League offline finals courtesy of our sponsor, GIGABYTE.
For months now we have brought you intense coverage of the G-1 League, match report for every game and also the latest update surrounding the tournament. Now, with a reliable sponsor in hand, we intend step up on our coverage and bring you live video interviews and photos from the venue itself.
After G-1 League we are most possibly heading to LGD's, Vici Gaming's and Invictus Gaming's gaming house to film the stuff these teams do to keep their up such high intense level of play all year round. Tell us who you would like us to interview and help us out with the questions!
Besides that, we will also be doing a very casino style giveaway courtesy of our coverage sponsor, GIGABYTE.
How to win? Gosubet contest!
GosuBet your way to a new graphics card on G-1 League. In this tournament, your branches do not matter because it is the total number of correct bets that decide if you rank high than the others. The person with the highest amount of correct bets will win these awesome goodies. BRANCHES DO NOT MATTER. With the round robin groupstage and the bubble race format, we will have a total of 17 matches to bet on (18 if all-stars is included). In case of equal count of correct bets, a random winner will be drawn. You find all the G-1 Matches in the "Upcoming Matches" box at the right side of our coverage hub.
More information about the products is available HERE.
1st prize: GIGABYTE GV-R785OC-2GD Graphics Card
>> WINDFORCE™ 2X: Anti-turbulence Cooling
>> Powered by AMD Radeon HD 7850 GPU
>> Integrated with the first 2GB GDDR5 memory and 256-bit memory interface
>> Overclock to 975 MHz
>> Support AMD Eyefinity Technology and Avivo™HD
2nd prize: GIGABYTE Aivia Osmium Mechanical Gaming Keyboard:
>> Superior CHERRY MX Mechanical Key-Switch
>> USB3.0 SuperSpeed extension port
>> Full-range anti-ghosting capability
>> Built-in GHOSTTM macro engine
>> Adjustable keyboard illumination
3rd prize: GIGABYTE Aivia Krypton
>> Advanced real 8200 DPI resolution laser sensor
>> Hot-swappable Mouse Chassis
>> Customizable center of gravity to fit your best hand balancer
>> Built-in GHOST™ macro engine, 70macros on the go
If you are not clicking on it, you are doing it wrong