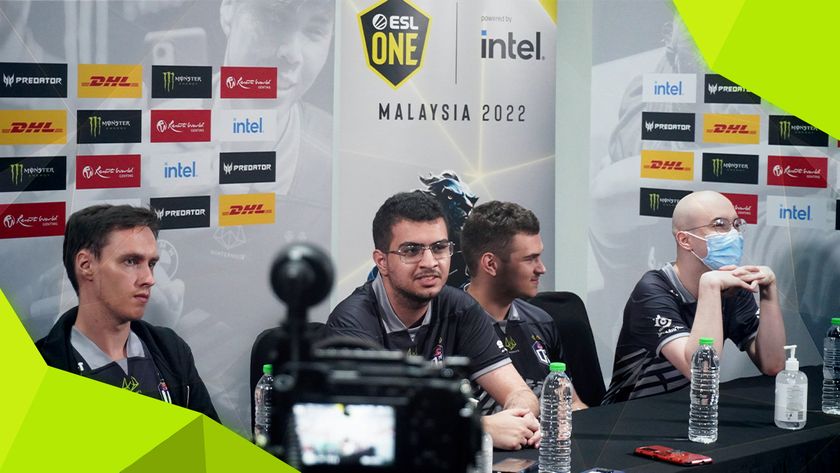 ESL One Malaysia 2022 OG press conference highlights 
Right after lifting the trophy of ESL One Malaysia 2022, OG sat down with the press to share a few insights into the grand finals and talk about the upcoming The International 2022.
OG pointed out a few of the mistakes that they felt Team Aster did, and questionedTiny's viability in the newly released 7.32 patch.
Taiga on Aster's Tiny
Aster picked Tiny in all three games of the best-of-five grand finals and lost with it 0-3 to OG. It was Ye "BoBoKa" Zhibiao who played Tiny in position 4 for the first two games of the grand finals, while in the third and final match the hero was taken to the mid lane by Zeng "Ori" Jiaoyang.
When asked what they think about Aster's choice, Tommy "Taiga" Le said the following:
We don't think Tiny is a good hero after the patch so we were kind of happy to see them go with it every game. It takes a lot to make this hero work and I think BoBoKa plays a really good Tiny, but I also think Tiny right now is not a good hero.
Aster allowed OG to have Mars, Ammar "ATF" Al-Assaf's signature hero, in the first two games and in both games Ammar showed the world once again why he is regarded as the best player on the hero. In game three, Aster first picked Mars for themselves and placed it on their offlane player, Lin "Xxs" Jing, who finished the match with 0 kills, 6 deaths and 9 assists.
ATF was asked during the press conference what are his impressions on Xxs' Mars and he wasn't shy to give a straight and blunt answer
ATF on Xxs' Mars
He picked Mars, but he doesn't know how this hero works. He tried to copy the best, but it didn't work. You can't just copy-paste Mars like that, you need to know the right way to play this hero. I have too many hours played on this hero so I know how to play against it and how to play with it.
ESL One Malaysia was the third LAN tournament where OG had to play with a stand-in due to visa and passport complications that their Russian nationality captain Mikhail "Misha" Agatov faced since the Russian invasion of Ukraine. This was also the second LAN tournament where OG played with their coach Evgenii "Chuvash" Makarov and the first title claimed with him standing in. So, we were curious if lifting the trophy in Genting reignited the fire in Chu and if he considers returning to active play in the near future.
GosuGamers: Has this tournament made you seriously consider returning to competitive play, perhaps next season?
Chu: "I guess... I love to play so fu***ing much, that you cannot even realize it. For the rest of the year, I watched these guys play and I was sometimes disappointed, sometimes proud. But it's amazing to play with them."
Taiga on Misha's visa situation and The International 11
Asked about Misha's situation and if there are any updates on his visa and passport for TI11, Taiga explained:
Misha was not with us here because he is working on his passport and Visa for Singapore. So, we are very certain that Misha will be playing with us in Singapore, but for that, he couldn't be with us here.
Regarding the confidence level and excitement for this year's TI where OG are going as one of the favourites given their incredible first year with the new roster, Taiga said:
I'm actually very excited to play this TI, especially with this roster. We've done so much this year, we worked so hard and we exceeded all the expectations in our first year together, so I just can't wait to experience TI together with this team and see how it goes.
OG have a month and a half to recharge, sort out the new patch into the finest details and go full force for the biggest tournament of the year. The International 2022 will kick off in Singapore on the 8th of October with the Last Chance Qualifiers, which will be played on LAN behind closed doors, followed by the group stage matches starting on October 15. TI11 playoffs are set to commence October 20 at the Suntec Arena from Singapore, while the finals days will be played October 29-30 at the Indoor Stadium.