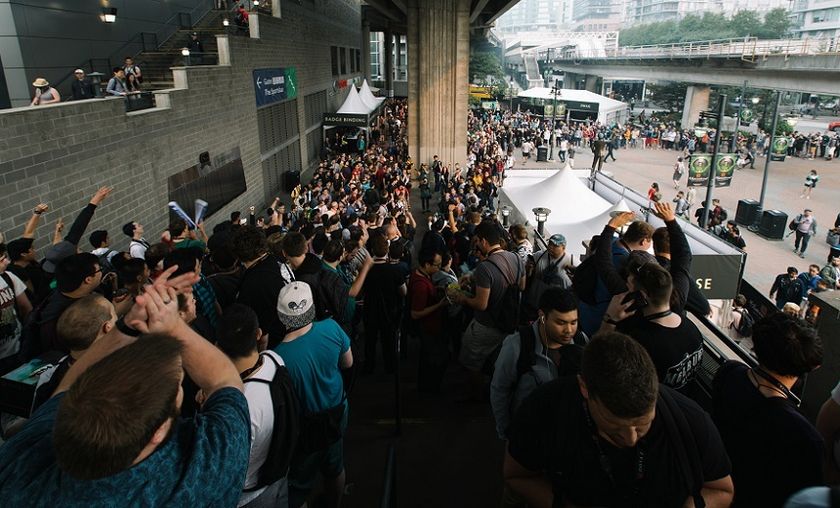 Daeja's View: Camaraderie amidst Competition, the TI8 Attendee Experience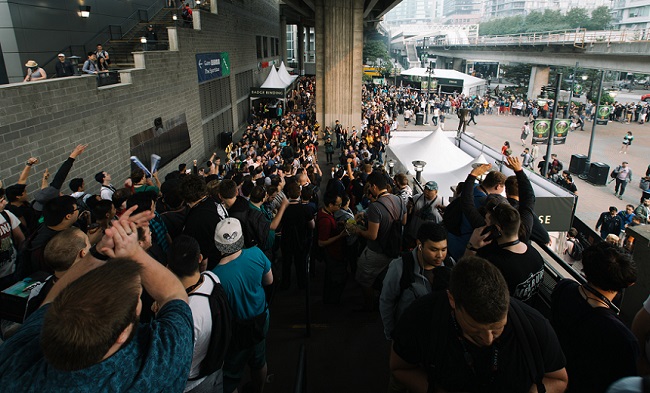 I would describe being at TI8 as being surrounded by friends, even when you're alone in the crowd. I spent time visiting people I knew online and some I already knew offline, but I also talked with the people who sat in the seats around us, people who stood in lines with me, and even people who were walking past in the hallways of the arena. Everyone was excited about the competition and seemed happy to chat about their favorite team or piece of content so far. Where else can you talk about Dota with literally anyone else in the building? Honestly, even the arena employees were excited to discuss it and learn as much as they could about the game.
There was this overwhelming sense of camaraderie, that we were all there together rather than as individuals watching the same show.
I was struck time and again by how welcoming everyone was. The atmosphere in the stands felt more celebratory to me than cutthroat. Which isn't to say fans weren't out supporting their teams; there were passionate fans, screaming both chants of support for their teams and heaping curses upon their opponents! But after each game ended, often once we'd all raced off to whatever line we were going to stand in next (food, water fountains, swag), it was easy to start up new conversations about Dota 2, the tournament, and the years behind and ahead of us.
New Venue, Who Dis?
Of course, this year TI moved from Seattle's Key Arena to Vancouver's Rogers Arena. The new venue had an impact on the overall event, becoming the sole focal point for attendees in ways that Key Arena didn't have to be.
In Vancouver, there wasn't any available outdoor space as there'd been in Seattle for a beer garden or outdoor viewing. There weren't additional buildings hosting community tournaments or demo-ing the latest OpenAI bots. We didn't have food trucks lining walkways, ready to give us some relief from yet another day of arena food.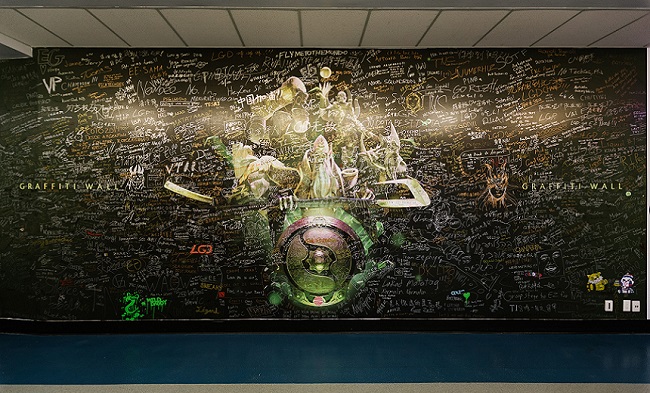 The arena itself had narrower hallways, with less space for booths or broadcasters to set up inside. There was an impressive signature wall, but no gallery for Dota 2 artwork. My movement around the arena was more motivated by function, such as needing to eat, rather than simply to see what was happening around the space.
All of this said, the air quality was poor in Vancouver during TI8 due to forest fires in the region. So perhaps it was for the best that we were all so focused on what was happening inside. Certainly, the broadcast did not let us down.
Watching TI
If you were planning to grab a snack during the show's downtime, you were pretty much out of luck. From the time the broadcast started in the morning until the last game ended well into the evening, there was zero downtime to be found. We had hours of highly competitive Dota 2 games, pre-filmed content and interviews, post-game interviews, panels, audience interactions, and announcements.
I want to highlight the content pieces. The content this year tended to emphasize cheeky humor and personality rather than, for example, the player's individual journeys to TI. It was a change in tone that I appreciated for bringing some levity to the event, contrasting with the seriousness of panels, for example. Most significantly, I think it made the few serious pieces, particularly the Jorien "Sheever" van der Heijden documentary, resonate more strongly because they were so tonally different. I was grateful I'd brought tissues that day for when teams were eliminated, because I used them all crying my way through Sheever's story. The arena itself was completely silent as we all watched that video.
It was a breathtakingly beautiful moment.
So then, what about when the day was done? Valve had us covered with the Late Game Show, an after-show hosted at a local pub. That event was too packed for my taste (I wasn't going to stand in any more lines by the end of the day!), but it was obviously quite popular. I'll have the pleasure of catching up on all of that content during my post-TI recovery process.
Fortunately for me, and anyone else who decided to skip the Late Game Show on site, there were easily dozens of community meet-ups through the week. Niche community groups went out for karaoke and drinks, there were planned pub crawls, and big parties thrown by different organizers. There was something to do most nights of the week for anyone who didn't want to make their own plans, but who needed to unwind after a long day spent in the arena.
Downtown Vancouver also had plenty of options for those who wanted to grab some food or drinks with friends before crashing for the night. I was pleasantly surprised not to have to wait for a table at any of the places I went, and many of them advertised that they were showing the Dota 2 stream for anyone who left the venue early.
All Good Things End
My trip was bookended by player sightings. When I arrived off the train in downtown Vancouver, I spotted Danil "Dendi" Ishutin with some friends. They were laughing and buying hot dogs from a street vendor. I knew that I'd finally arrived at TI8, because Dendi's such an iconic part of the TI experience.
A week later, when I was wheeling my suitcase out of my hotel to head home, I saw Peter "PPD" Dager chatting with some people in the hotel courtyard. I wondered if he was making plans for the new season or just having a conversation with friends? There was no way for me to know—I certainly wasn't going to ask! But in that moment, I knew that TI was well and truly over and the rush for the next season's start had begun.
All that was left then was to fly home to play some Dota 2.
Oh, and keep an eye on all the roster shuffles, wait for the post-TI patch, and hope for tournament announcements to kick off the second season of the Dota 2 Pro Circuit.
And maybe, just maybe, catch up on all the sleep we skipped during the event.
Congratulations OG on your win, and good luck to everyone in the upcoming season!