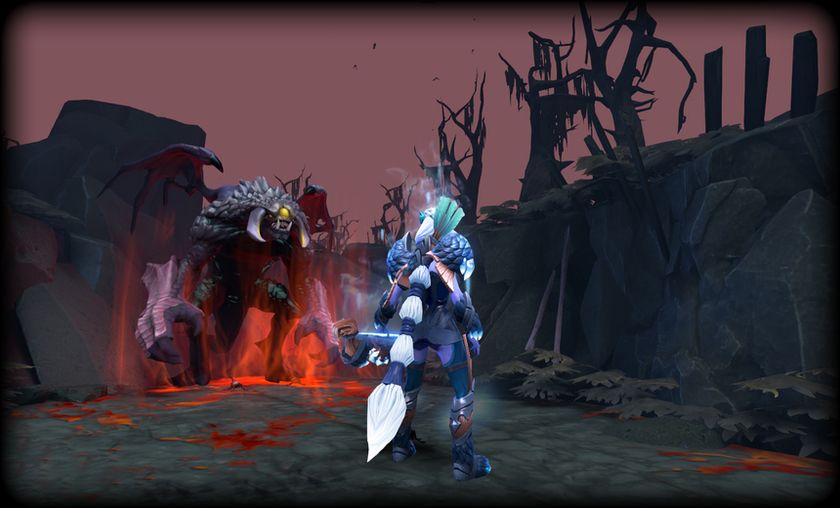 Top weekly Workshop submissions : A story about Achy and his Winter Puma
I approached Stanculescu 'Achy7' Alexandru this week to find out more about him and his awesome work. I asked Alex to promote himself in a couple of sentences and his answer amazed me.
"
There's nothing to promote about myself, I`m just a regular guy who loves Dota and is truly fascinated about the Workshoppers, nothing more!"
In a world in which everyone looks to show off their work, this guy somehow managed to keep away. Still curious to find out about him I tried to pull a few words. Among countless certificates, trainings and a vast experience in top gaming companies, he opened a school of gaming in Romania. He was the only one that had the guts to put into practice this completely crazy idea (in 2012, when the idea of gaming wasn`t so well developed).
How did you get hooked on creating Dota 2 cosmetics? From where did it all start?
It all began as a Dota player and I was fascinated by the Steam Workshop and the Dota 2 items. In 2013 I made my first item but I was too busy at my job to continue with this so I decided to postpone until I have more time. I started again in October 2015 with my rabbit courier and that was accepted recently on the market. Since then I've been working almost constantly for the Workshop.


Do you design Dota 2 items for a living?
No, I don't do this for a living. I make Dota 2 items to improve my 2D and 3D skills, and for a living I do some freelancing as a 2D-3D artist. I've been working for almost 20 years in the game industry. I was at almost all of the biggest game companies in Romania, where I live. I worked as a freelancer with a few companies from other countries and I also had a school of gaming focused on 2D and 3D animation.
You actually tried to open a school of gaming. Where can we find it?
Yes, I opened it in 2012. I called it "Achydesign" and it was a collaboration with Gameloft. Unfortunately, the Romanian market wasn`t ready for this. We don`t have the idea of gaming yet. But still, we had like 50 people in our classes of 3D modeling and animation, all focused on gaming. I had to get a lot of certificates on different areas like 3D MAX, and I gave up because of the costs. We spent a lot of money on this so our incomes couldn`t cover the expenses. We really tried to promote our gaming school but our efforts were in vain. It`s just better to design Dota 2 items, since it's not that much stress.
Who encouraged you to continue with your passion?
I love working in the gaming industry and I don`t feel time going by. I don`t see myself doing anything else. I've done this for my entire life so far. It`s not about encouragement, it`s about perseverance.
Which was your first item and what did you feel when you first submitted it?
I remember my first item, it was a weapon for Axe. I was so excited about it that I couldn`t sleep a whole night. I just refreshed the page over and over so that I can see how many viewers I got.


What about your most popular set and the one you love the most?
The most popular item I think it was Naggaroth, a set for Silencer from the Warhammer contest. My most loved item is Ramboar, the faithful courier. I was very inspired when I created it and I trully love his colors and animation.


How does feedback affect your work?
The feedbacks help me to improve my work and I`m very focused on comments because Dota players know exactly what they need in the game and what they want to see. As artists, we come up with the idea but the players come with the final touch, and that final touch makes us improve our skills. The ideas come when you don`t think about Dota items. You usually have a flash when you do something else. BOOM! The idea just comes to you for a hero set. I think of a helmet or a weapon and from this I try to create the entire set, just like I did with the Drow Ranger set. Everything started with the helmet.
What do you love about your job and what do you hate?
About my job... I love that I constantly put my imagination to work and I create all the time. It`s good to see other artists doing the same thing. I hate when I`m stuck, when I have no other ideas, and when nothing works as expected and I have a deadline.
Now about the Drow Ranger set, Winter Puma. Tell me everything! How did it all start?


I chose Drow because I had an idea about a futuristic helmet, but after some work in ZBrush it felt too futuristic for Dota 2. Still, even under these circumstances, the idea of a cat, tiger or puma helmet had really pushed me forward, so I came up with another cool idea to replace the cape with a long puma-like tail.


After this it was easy because I had to make it look more and more like a puma with fur and claws. I first used some feathers to make the shoulders more visible in the game but I felt that too many artists use feathers and wanted to come up with a new idea. I thought about some wooden wings and parts of the set. It felt like it was working very well with the other materials. I paid a lot of attention to the claws' texture to make them more crystal-like. For me, the most important thing is how the set looks inside the game.
Thanks for your time, Alex! Don`t give up on your dreams and best of luck further!
---

Now, let`s see the Trolls and the other heroes which received attention this week.
I have a vague impression that Troll Warlord will receive an increasing attention in the following weeks. It may even be able to rival Abyssal Underlord for the highest number of submitted sets. And speaking of Underlord, no sets for him this week guys. I almost miss that hideous creature.
I have to admit that I`m a big fan of Mihalceanu's work, who never disappointed his followers. He came up with a slightly different approach for the hero. I saw the progress of this set and I have to say it's one of the best so far.


Being visually well balanced, the "Troll Comander" set is perfect for those who aren't fans of futuristic ideas which do not respect the hero`s lore.
---
A little bit too painty for my taste, "Rage Blade" stands out by its strong colors, and also by its two weapons which are a bit too big.




Of course, you cannot overlook the blue crest partially hidden by the mask, and the enormous shoulder armor pieces.
---
After a resounding success with the Broodmother set, Motenai proposes this time 5 frozen pieces which Lich can soon enjoy, I hope. The way in which his icicles hang looks very realistic and the hat fits him perfectly.




Surely this set will be loved by everyone!
---
It's the first Shredder set that I see in 13 weeks and I can say it looks really cute. The materials used are very interesting and I'm sure that behind this decision there's a story. Why do I say this? Because of the description left by the artist with regards to the set.




Can anyone keep me up with the "Lily in the Marsh" thing?
---
I have only one word for this. Lovely! *insert cuteness overload meme here*. Don`t jump on me with the execution part and stuff. I just love the idea of a cute Treant Protector. The combination between his little armor and the flowers that grow out of him is simply adorable!




I think someone could make  a cartoon series or something inspired by this wonderful set.
---
Last but not least we have a really exquisite 13 pieces DK set. The artist who created this masterpiece put a lot of work in designing two different versions for it. The attention to detail with which even the smallest aspect of it was worked leaves me speechless.




You have to check out and see the wonderful things this artist designed. It won my heart over completely!
---

Don`t forget to vote your favorite sets and leave some feedbacks because all the workshoppers with whom I talked complained about the lack of them. It is a big discrepancy between players' wish to have more sets and the minimum effort that has to be put in to see them on the Steam Market.