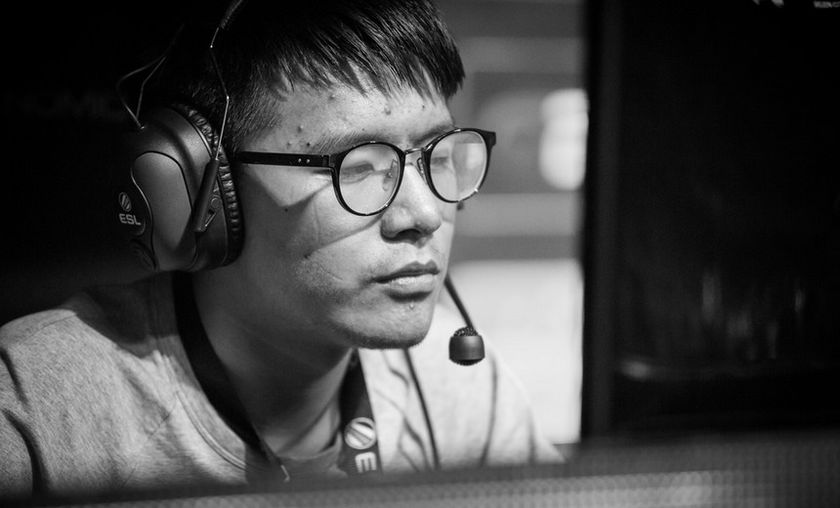 Wings.y`Innocence: "DotA becomes very stale if we play the same heroes over and over again"
Wings Gaming's recent performance has been extremely impressive. After winning the TI6 Chinese qualifiers, they were able to land themselves in the grand finals of the Nanyang Championships Season 2 only losing to Newbee. After that they adjusted themselves and were crowned as champions at The Summit 5 defeating both finalists at the Manila Major - OG and Team Liquid. 
Although they've achieved amazing results, Innocence's attitude did not show any signs of arrogance. He expressed the importance of learning from experienced teams because they are still a very young team. He also thinks that DotA becomes boring after playing same heroes repeatedly. He thinks that anything can happen in DotA and all they can do is adjust themselves to the best condition during matches.
---
The Interview was conducted in Chinese and translated for GosuGamers by Ernest "ernest429" Yim
Wings Gaming started this year as one of the lesser known teams in China. From that you guys have worked hard with minimum sponsorship and support to achieve the results today. How does it feel to be acknowledged by the DotA fans as one of the best teams in the world right now?
I'm very proud of our determination and perseverance in sticking together as a team. In a way I feel like we haven't wasted our effort in the past year and it's really happy to see these efforts translate into fruitful results.
How is the team's spirit? What are your emotions knowing that you'll be able to compete in the most prestigious tournament of the year?
The team spirit has always been very uplifting. After The Summit 5 it became more tense in some ways. Hopefully we can perform even better at TI6. TI6 is the most prestigious tournament of the year and it's the dream of any DotA player to be able to participate in it. It is also the examination and conclusion of the year. When we were able to qualify for this everyone was extremely happy. Hopefully we can earn ourselves a good placement at the event.
Wings Gaming's road at the Chinese qualifiers was very tough as most people regard the Chinese region as the toughest one. Which game or series did you think was the hardest for you guys?
Because we had to play against every team in a BO1, every game felt extremely difficult. This is because every mistake we make can result in a relevant difference in points. Every team that made it to the qualifiers are all very strong, all we can do is prepare ourselves for everything possible and earn our qualification spot through the most direct way.
Of all the Chinese teams that are going to TI, Wings Gaming is the youngest and the least experienced team. What goals have you guys set for this year's TI?
Because we've already participated in numerous tournaments before, we have gained much more tournament experience. From our victory at ESL Manila to our last place at the Manila Major, we learned a lot as a team and these experiences are all very valuable. At TI6, hopefully we can do better than last place, and we'll try our best to aim for first place. The Aegis is the dream of any professional Dota player.
Which team at TI do you fear the most and which team do you wish to go against the most?
I've heard that the group stage this year will be in the format of a round-robin, but I'm not quite sure as we still haven't receive information from Valve. Every team at TI is very strong and they all have their own specialties. We haven't played much against the new Secret and EG. OG and Team Liquid are getting stronger every time we play them, the Chinese teams are also very strong in every aspect. These teams are all obstacles for us to cross during the main event. We have to push ourselves to the limit in order to beat any team at TI. If the group stage is indeed a round-robin, then we will have to play against every single team. I guess I would want to go against the teams that do not ban out our favorite heroes.
Wings did not perform very well at the Manila Major. Can you share some insights as to the reason behind that and how would you solve this at the upcoming TI?
I don't think we adjusted our mentality and condition very well to the tournament. After the tournament we discussed as a team and talked about the mistakes we made. In the Bo1 everyone wanted to win very badly which resulted in mediocre decision making and ultimately our defeat to compLexity. Hopefully we won't repeat our mistakes at TI and we can face the most important tournament of the year as a united team.
What do you think are your advantages as a young team against the more experienced ones?
As you've mentioned earlier, we lack the experience the veterans have. Every team has their own style and in Dota, anything is possible. Our style is very innovative. In games my teammates contribute a lot during drafts and we create a strategy together as a team to face our opponents.
The season 2 of the Nanyang Championships happened shortly after the TI6 qualifiers. In this tournament Wings did not play against VG.R and LGD at all but played against Newbee twice. What is your opinion on these three Chinese teams? Especially you guys defeated Newbee in the upper bracket finals but proceeded to lose to them in the grand finals.
We've played against VG.R in multiple occasions before and we know each other very well. In many ways we are very similar because the two teams are mostly comprised of young players. I guess we both lack the experience in this regard. LGD and Newbee have been strong teams for a very long time, their players and experience are all much stronger than us. We try to learn from them in every way possible in order to stand equally against them. In the finals Newbee's condition was better than us. Because we played the series to a game five, the series was very enjoyable. Both teams used their strongest heroes and strategies and the matches were very intense. In every game we lost or won we accumulated more experience for future games. So we really want to thank Newbee for these high level games.
Do you think Newbee or LGD is the strongest team in China right now or do you think Wings is superior?
I think they are still stronger than us.
Wings will start their bootcamp at the United States very soon, which teams do you guys wish to scrim against and how do you think you guys can make the most of it?
We aim to at least play against every team going to TI once during our bootcamp here. The main goal is to adjust to the western playstyle so we can prepare ourselves for anything.
Wings's victory at The Summit 5 is described by the fans as one of the most convincing wins in Dota history, defeating the Manila Major Champion and runner-up. What do you think is the reason behind this victory? In what aspect is Wings better than OG and Team Liquid?
I honestly think that there isn't much skill difference in the teams that competed at The Summit. They are all very strong teams and we only won because we happened to adjust our condition and our strategies to the meta the best. Players' condition and mentality during the matches themselves are very important factors in DotA.
In the grand finals series, Wings picked 20 different heroes in four games. Is exploring new heroes a fundamental emphasis during practice and scrims?
We usually pick very different heroes during pubs and scrims. This is because DotA becomes very stale if we play the same heroes over and over again.
In the very last game of the grand finals, all of the casters including Team Liquid players, all thought Wings's draft was very mediocre. The Spirit Breaker pick was especially intriguing. However it worked extremely well in the game. Can you shed some light on the reasoning behind the draft of the last game?
I think the only special thing about the draft of the last game in the grand finals was that it had smaller room for error. We agreed on Spirit Breaker just because the team was confident with the hero so therefore we picked it.
Thank you again for the interview, we wish you the best at TI. Do you have anything to say to your western fans?
Thank you for all the support from our fans. We will try our best to provide you guys with high quality games during TI!
Wings Gaming Roster:

Chu 'Shadow' Zeyu

Zhou 'bLink' Yang

Zhang 'Faith_bian' Ruida

Zhang 'y`Innocence' Yiping

Li 'iceice' Peng 

The International 6 Coverage HUB
Click here for results, VODs and all the other information