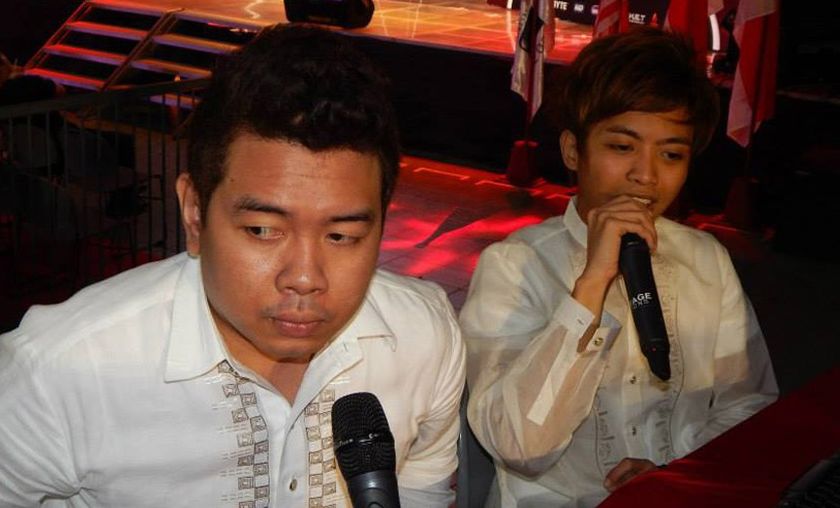 Tryke Gutierrez Interview: "My goal is to be able to show big companies the potential of eSports"
Tryke Gutierrez is a famous local shoutcaster and event organizer. He previously worked with Mineski and MSi Gaming and is currently stationed at Philippine Esports Organization (PESO).
This interview was conducted last July 10, 2016 by Robert "Midnight" De Guzman.
__________________________________________________________________________________________
Hi Tryke!
Hi
So how did you start with esports?
I started out as a player with a team called Inertia, back then my teammates were my friends from La Salle including my former shoutcasting partner Marlon Marcelo. DOTA 1 pa yun (It was still Dota 1).
Then you just played and played?
Yes, but back then there were not much tournaments like now. We had a few annual events and that's it. That's why I feel the players now are so lucky Then there came a point where there's no point in being a player anymore cause there's no tournaments to join anway, so that's when i decided to organize eSports events
So how did you make your transition from being a player into an organizer? Was it hard at first?
Actually, it wasn't, because my course in DLSU was organizational communication and I was also a member of a university group called green media group which hosted most of the events in our school so I had the skill set for it.
The hardest part probably, is not being able to join the tournaments anymore.
So being an organizer, who did you organize for? What is the first big step with your being an organizer, and what were the repercussions that came along with it? (eg: leaving school, leaving home)
The first event that I helped organize was Mineski Pro-Gaming League in its early days. My first big step probably is MSI Overdrive. I remember I was so happy seeing it unfold in front of my eyes. Back then, the prizes weren't that big and not many events featured different games. I remember we had League of Legends, Diablo 3, DOTA 1, Starcraft 2 and Crossfire. It also featured a prize pool of over PHP 200,000, the expectations were so high but we managed to put on one of the best shows in the early days of eSports. That's also the first eSports event that featured Eri Neeman.
The event was featured in numerous TV stations and I'm still thankful to this day that MSI Philippines gave me the opportunity to do that event, if they didn't I wouldnt be organizing eSports events now.
Sounds like a fun ride! Now that everything's gotten big, what are you doing for eSports? Do you still continue organizing or have you found your passion elsewhere?
Currently I'm running the operations of Philippine eSports Organization. We are the local company behind the Manila Major, we helped PGL and Valve put things together for the event. We're mostly a one stop shop for eSports so we don't just organize events we have other services as well. Basically, my goal is to be able to show big companies the potential of eSports as a tool in marketing, advertising and more.
That's a very commendable goal. Seeing that PH recently hosted one of the majors, it surely brings in the importance of eSports to other fields. Any thoughts on how eSports would be 3-5 years from now?
eSports has come a long way. I've organized events from Computer cafes to malls to convention halls and finally to the Moa Arena. I started out with Gaming gears as prizes to 20,000 to 200,000 to 2,000,000 and this year 144,000,000. I have always believed that the Philippines is one of the best destination for eSports not only because it's cheaper to do it here, but because we have the best crowd in the world.
Nothing can compare to playing in front of a full packed Filipino crowd in all of eSports. The Manila Majors I believe is just a start for so many things to come. I think in a few years, we'll have players getting regular salaries out of just playing the game and we'll have more clubs who can compete against the best in the world. I have no doubt in my mind that the future is bright for eSports because eSports is the future.
You've shown proof of what was your vision. Now that you've grown on Philippine eSports, what can you say about it? What will be happening to Philippines after the Manila Major?
I'm just happy with how everything turned out for eSports in the Philippines. I can't take credit for everything that happened here, it's a collective effort from different people and companies in the industry who are very passionate about growing this industry in this country. The Manila Majors opened a lot of doubters eyes to the potential of eSports, I've already talked to different companies that I can't mention now for future projects that I've never even thought of as possible to do here in the Philippines.
That's very cool! Talking about the Manila Majors, of course after it is The International 2016. Seeing so many fellow countrymen attending it, I guess it's hard to root for a single team. But which team are you actually secretly wishing to win? Even if they are not a Filipino team.
The only international team I actually root for is Alliance, outside of that I'll root for any PH team in any international event. I want TnC and Execration to win of course that's not a secret. I really think they have a huge chance to surprise a lot of teams this year. I'm planning to go to TI myself to witness this part of PH eSports history.
Here comes the fun part of the Interview. If you were to select a team right now that you could join, who would it be?
Hahahaha!! I'd join OG and see if Miracle can carry me :))
The Miracle bandwagon eh? So who is your Dota 2 Idol? Apart from the obvious answer which is probably Miracle.
Miracle isn't my idol but he's really good. Hmmm if there's one person I really like among DOTA 2 players, it's probably Jeremy Lin cause he plays in the NBA. :))
Superb answer! Last question, if you are to build a team winning TI, who's it gonna be? Considering the roles they play right now.
Abed (1), Kuku (2), Bimbo(3), DJ (4), Kimo (5)
All pinoy team ftw
Nice! Thanks for the Interview Tryke! Any shoutouts? Message to fans?
Shout out to Bianca Yao, Alodia, Julius Mariano, Shehyee, Ann, Eric and my eSports INQ and PeSO team, you know who you are. Congratulations again to Arvin Risos of Execration and to Sir Eric Redulfin of TNC, see you in Seattle!! Lastly, I would like to use this opportunity to thank Mr. Brian Lim of Philippine eSports Organization for believing in me back in 2012 and to Ms. Marian Gomez my former boss in MSI Philippines for guiding me in the early days of my career. To those who have been asking me if why I haven't been shoutcasting anymore, the eSports industry is still young and because of that not much people can fill the roles needed for this industry to reach its potential. I'll have to take the organizing hat for now but once all is set and running on its own, I plan to go back to my greatest passion and shoutcast DOTA 2 games again. At times, you can still catch me shoutcasting at www.twitch.tv/esportsinq and if you want to contact me for business and sponsorship opportunities in esports, you can reach me at [email protected] Thanks Neil for the interview