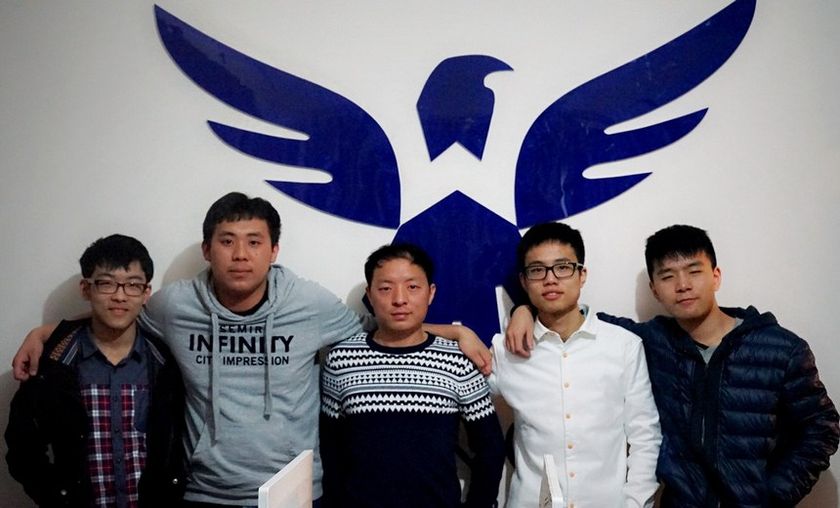 Interview with Wings Gaming: I don't think we'll be afraid of any teams
Wings Gaming has caught the attention of many DotA fans since their victory over Team Secret at the World Cyber Arena 2015. Although that event was filled with controversy and Wings Gaming were caught in between the accusation of cheating, the issue was eventually resolved with players from Team Leviathan clearing the air. After the post-Shanghai Major reshuffle, Wings Gaming once again displayed the consistency and skills required to defeat top tier teams in China.
At the recent ESL One Manila Chinese qualifiers they were able to defeat teams such as Vici Gaming, Invictus Gaming Vitality, and the Starladder i-League Champions, Vici Gaming Reborn to qualify for the main event. 

The Interview was conducted in Chinese by Ernest 'ernest429' Yim a  week prior to the ESL One Manila.
---
Thank you for taking the time to sit down and talk with us. Can you guys introduce yourselves briefly to our readers?
Shadow: Hi, I am shadow, I'm 19 years old and I play carry for Wings Gaming. During my free time I enjoy researching about different playstyles of the carry role. I always try to experiment with new carry heroes and discuss the viability of using them in official matches with my teammates.
bLink: Hi everyone, I am 跳刀跳刀丶(bLink) the solo mid player for Wings Gaming. I'm 24 years old and have been playing DOTA since 6.59. I've been on the Wings Gaming roster for just over a year and I've enjoyed every moment of it, other than when we lose of course.
Faith_bian: Hi, I am Faith_bian, the offlane player for Wings Gaming. I'm 18 years old and I was previously part of SPG and KU. After coming to Chong Qing we formed Wings Gaming together. I have the habit of writing diary entries in order to reflect upon myself, I think this is very beneficial to improving as a professional player.
Icecice: Hi everyone, my name is iceice and I play the support role for Wings Gaming. I'm 21 years old and I enjoy the occasional workout such as jogging with my teammates after matches and scrims.
y`innocence: Hi all, I am y`innocence and I'm 18 years old. I'm the team captain and I play the hard support role for Wings Gaming. I first met bLink and Faith_bian at SPG. We formed a team under the recommendations from our friends. I've been playing under Wings Gaming for a year now. As the captain I often draft very peculiar heroes and compositions, this is mostly due to my teammates' confidence in my understanding of the meta. Because of this I usually draft comfort heroes for my team. During free time I enjoy analyzing drafts, watching movies with my teammates and meme together.
Zhang 'y`innocence' Yiping

 
Some of your western fans may not be familiar with Wings Gaming, can you guys tell the fans a bit more about your organization?
We are an eSports organization under the Chong Qing Youth Tech Co, Ltd based in Chong Qing. We started our organization under DOTA 2 in 2014 and expanded into CSGO in the second half of 2015.
When did you guys start thinking about playing with each other? Have you guys known each other for a long time?
The current roster of Wings Gaming is the result of the TI5 reshuffle. Although there was a huge reshuffle after the Shanghai Major in China, we stuck with our full roster. Our teammates have known each other for over a year now and have developed a close relationship with each other.
Wings Gaming's current roster has been around for over six months now, how is the team chemistry?
The chemistry of the team is excellent. Normally after scrims or official matches we sit down and discuss actively about the games. During breaks we often go to the movies together. Everyone on the team knows each other very well and that is why we show extraordinary coordination in matches.
Wings Gaming has favored picking Invoker this patch, and had a lot of success with it compared with other Chinese teams. What do you guys think of the hero?
Invoker is very strong in the current meta. On top of that, bLink has a very deep understanding of the hero and we are all confident in his Invoker plays. Because we pick it so frequently other teams always resort to banning it in the drafting phase.
In recent games Wings Gaming's drafts were often push-oriented. Heroes like Chen, Pugna and Beastmaster are amongst your most picked heroes. Do you guys think this patch favors a push-oriented lineup?
We believe this patch favors pushing and early aggression. Breaching high ground is often very difficult which is why aggression is so important because it sets the tempo for your team. Usually we draft accordingly to the other team's draft. Although we favor pushing-oriented lineups we always try to pick new heroes because of the large hero pool of our team.
Wings Gaming seems to have a special interest in Weaver. Do you think there is something particularly strong    about this hero since you guys are one of the few teams that has picked this hero?
This hero has gained a fair amount of popularity recently. It is very effective against immobile tank cores and fragile support heroes and it has a very strong laning phase. If the opposing team does not hinder the early farm of Weaver it can sustain its farm in a solo lane and pressure the farm of its laning opponent.
Do you think the post-Shanghai Major reshuffle benefited Chinese teams?
We feel like the reshuffle is healthy for the Chinese teams. After the miraculous results from EHOME's combination of veterans and young players, many teams began to imitate this formation. Therefore a lot of new blood was pumped into the Chinese professional scene which I believe is healthy for the growth of Chinese DOTA.
What about the Western teams? Do you guys have a personal favorite Western team or a team that you guys particularly want to play against?
The western reshuffle is slightly different. It seems like every time they take a solid win at a tournament they like to change their roster. Team Secret is on our radar because their reshuffled roster looks very promising.
What's your opinion on the current state of Chinese Dota? Do you think the Western teams are further ahead?
The Chinese teams have gone through an enormous reshuffle and have just begun to adapt to the new changes. I believe they can achieve great results after a brief period of adjustments. The younger players are currently very inexperienced and there is currently a rift between the veterans and the young blood in the Chinese DOTA scene due to insufficient support and trust of young players. On top of that the drafts of Chinese teams seem lackluster. We spend a lot of time discussing drafts in order to find a suitable playstyle for ourselves in the meta.
Western teams seem to be adjusting more comfortably in this patch and have been very innovative in their drafts. But Chinese teams have begun to explore their own playstyles and drafts as well. Although this is a late start I believe Chinese teams can achieve great results in the upcoming tournaments.
ESL Manila will be Wings Gaming's second LAN event. How do you think Wings will fare against Western teams?  What placement do you hope to achieve at Manila?
The top western teams are extremely strong. They have their unique understanding in drafts and playstyles. We will try our best at Manila and we aim to win the whole tournament.
Which team at ESL Manila do you guys fear the most?
We are not scared of any team. I think the most important thing is to adjust our own mentality and compete with ourselves. Every team at Manila is very strong and we respect every single opponent we face. As long as we tried our best I don't think we'll be afraid of any teams.
Thank you for taking the time to have an interview with us! Do you have anything to say to your western fans?
Thanks for all the support from our western fans, we will try our best at Manila!
Photo Credits: www.carry6.com