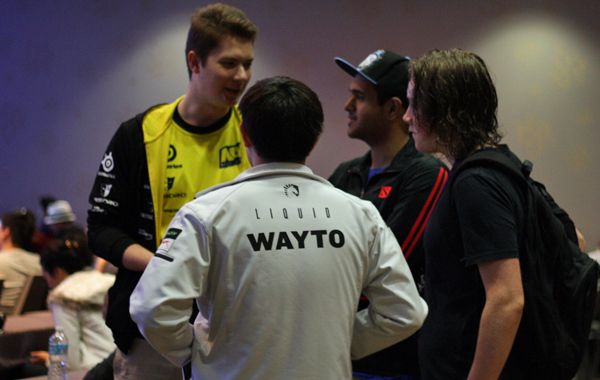 Day 6 Event Blog: Chinese showdown

Click here for our gallery of photos! 
---
Match 3: The Chinese showdown
The first game of this match was really a class act by NewBee finding the correct time for their lineup to shine and capitalising on it to end the game really fast. I did not expect such a fast end to the match given that both teams are the stalwarts of the Chinese scene, and they are really closely matched. 
There are still a large group of attendees in the hall, but there are few players watching now - they are either out of the venue or at the practice area playing games - after all, more than half of the original 19 teams have been eliminated by now, and there is little reason for them to continue sticking to the venue area. 
---
Match 2: East vs West
This match was a systematic disassembling of Na`Vi by NewBee. The crowd here is clearly cheering for Na`Vi, with a small but significant portion cheering for the Chinese. Sad as it is to say, I think most of the excitement was lost after Na`Vi's dive past the tier 2 tower was heavily punished by NewBee and allowed them to snowball to victory. What will come next in match 2? 
In the meantime, the Titan players are obviously unhappy, but they have not looked as broken or as lost as some of the other teams, like Liquid in particular. Hopefully they will bounce back for next year, but in the meantime let them nurse their wounds, and let us look forward to the rest of the matches! 
NewBee have won the second match, securing a 2-0 win over Na`Vi. Now all we have left is a Chinese matchup between iG and NewBee, both extremely strong teams. This essentially means that only one western team has made it into the top four, which is EG. This is the first time that Na`Vi will be starting in the Loser's Bracket, and they will have to play their best come the main event to keep their dreams alive. 
---
Titan mounts a comeback! 
What a comeback! So many people are cheering here at the International when they saw Titan take their first team fight and slowly gain momentum over and over and their eventual win. Titan keep their hopes alive and I wonder how NewBee must be feeling right now after losing such a game. This series has been great so far and I really hope to see SEA make it into the next round. Meanwhile, I'll be trying to get a chat with Oling, Titan's Manager in between the matches. 
Titan have unfortunately lost their third match against NewBee, and will be bowing out of the tournament. I hope they bounce back next year and do well, but that fast push death-ball strategy from NewBee was extremely well executed and they deserve the win and spot in the top 8. In the mean time, we will now see an east-vs-west matchup between NewBee and Na`Vi for a chance to face up against iG. I wonder how this one will go. 
---
Bubble Race Match 1: Good Morning!
Good morning everyone, I'm back again at the International 2014. I arrived in time for the matches to begin, and my morning began well. Iceiceice remembered that I had asked for a photo and came up to me and said "Let's take a photo." That was good. He also mentioned that he is very relaxed today and will be watching all the teams playing today struggle to reach the winner's bracket. 
Anyway, it's the custodian of Chinese Dota now going up against the Champions of SEA. I am very torn on this match - I believe both teams have played extremely well, well enough to make it into the main event. Bearing in mind that Titan and NewBee are both the respective 3rd and 4th teams from TI3 (bar one player per team), I wish neither of them had to fight for survival at the main event right now. 
The game is going really well for NewBee right now, but Titan are really playing well to try to comeback. Both teams are really proving their mettle, and this looks like it will be a great series. There are fans of both teams here in the hall, and it seems pretty even right now. Will update again once I hear more or get more information! 
The second match is not going Titan's way either. I am sad for SEA Dota since if Titan fall here, there will be no SEA team in the top 8 of The International for the first time. In the meantime, I ran into 71 outside the hall where he was grabbing a cup of coffee. He let me know that DK was currently watching the Titan-NewBee match in their room, and after that would be heading away from The Westin to their training ground to watch the next match and also review their performance yesterday. It appears that DK as a team have chosen to train away from the venue, perhaps as an extra precaution against the spying issues and so on. 
---