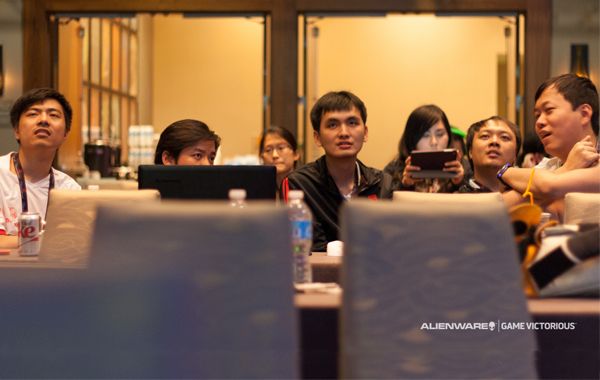 Day 4 Event Blog: Short Interview with 71

Click here for our gallery of photos! 
---
Tiebreakers - Onward to Phase 3
The tie breakers are over! Someone has flipped a switch in NewBee for the tiebreakers, I think. They played both matches against LGD and Mouz with much more certainty and dominance compared to the rest of their matches in the group stage. They look really scary, but at the same time this also means that Mouz has been eliminated from the tournament. 10 teams remain, and 2 more to be remained tomorrow. The hall has emptied out a lot now that the matches are over, and there is a lot of chattering over how Mouz got almost completely stomped in the last match.
Tomorrow will see either LGD or Liquid exiting the tournament, followed by two more best of 3s with DK and C9 in a bubble race format. It will be a welcome change to watch best of 3s now, and I am looking forward to that. Hopefully tomorrow I'll be able to approach more players and talk to them, as they will be less busy and mostly in the public areas rather than shuttling between places.
That's all for today, and I hope you enjoyed the 71 interview as much as I did learning from him. 
---
Tiebreaker 1 - Mouz vs LGD
I was busy consorting with DK, as usual, and listening in to them talk about the first tiebreaker match. For the first time since the wildcards, we are seeing a packed hall with people all cheering for the same match. In such a high stakes match with such a great storyline, it is no surprise that many emotions are invested in the match. However, it is clear that East vs West lines have been drawn, with different sections of the hall cheering for different teams.
The central area is populated by mostly European/American fans, and they are naturally cheering for Mouz. On the peripheries, we see a large and boisterous group of Chinese fans who are cheering for LGD and their plays. It'll be interesting to see where this goes. In the meantime, I'm going to try to get more pictures of the audience. Be back soon with more updates! 
---
Break: Short Interview with 71!
Hi 71, I have a few questions for you today. First, EG won and DK was unable to get the chance to play EG for a direct spot at the main event through a tiebreaker. Do you wish you had that chance?
Well, no, we did not deserve the spot since we did not play well at the beginning of the group stage. That is not to say that 3rd is better, but we are not afraid of playing more matches since we have a ton of strategies and ways of reacting to teams. I do not believe that we fear any team, as long as we play well, we will win. 
Also, third place is pretty good since we get to play a match between the end of the groupstage and the main event so that we do not get rusty. 
We noticed that DK changed drafters halfway through the groupstage. Could you explain the reasons for this?
We have a few reasons for this, but it was not part of the plan. This was a reaction to our first three games which we lost. In those games, they were mostly draft losses - I do not think that we would have won those matches even if we had executed those drafts well. I think it is obvious that we did not manage to play those drafts well, but we were already seriously disadvantaged from the start. 
If you would notice, BurNing was unable to play his own drafts well and fulfil his position as carry. He was experiencing a lot of pressure from the amount of prize money on the line as well as the enormity and prestige of the event. Bearing in mind that the drafter experiences even greater pressure, he was unable to play his best. So we switched drafter to LaNm so that BurNing could focus on playing his best in his position.
Furthermore, LaNm is a very good drafter as well with creative picks and you can see that we have improved since then. 
So will LaNm be drafting for DK at the main event?
Yes, he will continue to draft for us. 
Also, was support Juggernaut his idea?
Yes, way before the event started, LaNm had already told me that he knew what supports he would be playing at The International. He had his eye on Juggernaut which was already really strong then, and started picking it when he started drafting for us. 
What do you think of Alliance's early exit from the tournament?
That is not Alliance's true potential. They were not playing the best they could. A lot of it has to do with people banning Prophet and Wisp, without which they seem to be unable to pull off big plays. Moreover, Mushi met them at a foodcourt on Day 2 I believe, and he spoke with them.
It seemed that they were under a lot of pressure from having a poor start and were unable to play to the best of their ability due to the pressure to do well - they asked us if we had the same pressure as them, and we had as well. We just responded to it better, but this elimination was really not Alliance's real ability. 
---
Round 3: Tiebreakers!
Tiebreakers have been confirmed for at least the 10th spot as Mouz will have to battle NewBee and LGD for the 9th and 10th spots. I am eagerly awaiting the EG-Alliance match's end. The match is almost reminiscent of the TI3 Grand Finals with Alliance relocating all over the place to get the objectives. What a match! With the stakes riding on this match, I am not surprised that the crowd is extremely excited right now - it is the only ongoing match and it is also the single most important match of the last round. 
EG HAVE WON! The entire hall is cheering after that high octane conclusion to the group stage. What a match. This victory for EG means that there will be a tiebreaker for the 10th position, and VG secure the top, while EG secure second position. DK will end up third, and I believe iG are fourth. The intensity of the match was so high that there were many who simply forgot to eat the lunch that was in front of them.
---
Round 2: LGD wins, Alliance and Mouz fight for survival 

There are already four teams eliminated from the tournament: Empire, Fnatic, Na`Vi.US and Arrow. In the meantime, Alliance and Mouz will both need to win both their matches to enter into a four way tie with LGD and NewBee for the last 2 places for phase 3. There's an El Clasico going on now, but I think more people are interested in watching the DK-EG matchup since most people seem to be staring at their devices instead. 
The El Clasico is really living up to its name. Alliance are going back to their real roots of going full split-push to keep their hopes alive for the rest of the tournament. And their split-push has won and they have finally beaten Na`Vi, which means they next need to beat EG to stay in the tournament. Mouz also won their match against Na`Vi.US, which means that they keep their hopes alive as well. 
On the other hand, DK has beaten EG, which will allow them a good chance at going for a tiebreaker for second place. Vici took out Arrow, but nearly failed to do so on the back of DDZ's impressive performance on Tinker. However, with this and DK's win over EG, I believe Vici have sealed their position as top in the group stage. 
The last round is definitely going to be a thriller. I can't wait!
I saw Fnatic gathered outside the hall after their loss earlier. They appeared more resigned than sad, but I have no doubt that they are definitely depressed over their elimination. 
---
Round 1: Important matches and MEEPO
Good morning everyone! It is day 4 of the group stage today and there will be 3 rounds of matches today followed by a potential great day of tiebreakers. With every match putting their tournament survival on the line, the teams are surely going all the way to make sure they qualify for the main event. 
Arrow have decided to run a draft extremely reminiscent of Fnatic back at the Summit, with an Axe and Meepo pick. Empire are taking an early lead though, so we will see how well Meepo's first appearance goes. The other matches seem to be more exciting though, with a ton of cheering coming out from the left side of the hall. I believe that the game they are watching is NewBee vs Na`Vi, which seems to be a fragfest so far. 
There is a ton of cheering for the Na`Vi match indeed. Na`Vi coming into gear might be the scariest thing in this tournament yet. I just met 71 and he said that "We have confidence against EG, the issue is that we can win against anyone and we can lose against anyone." 
LGD have taken the win over C9, which more or less means that most of the bottom teams have their work cut our for them. There is some furious discussion going on now with the standings being discussed, as well as the confirmation that two more teams have been eliminated. Onward to round 2! 
---