BLAST announces the 2023 tournament calendar
The BLAST circuit begins in Spring and ends with the World Final.
Tournament organizer BLAST has just released its tournament calendar for CSGO's 2023 season, which includes the dates and prize pool for each tournament. Also released was more information on the Showdown qualifying criteria.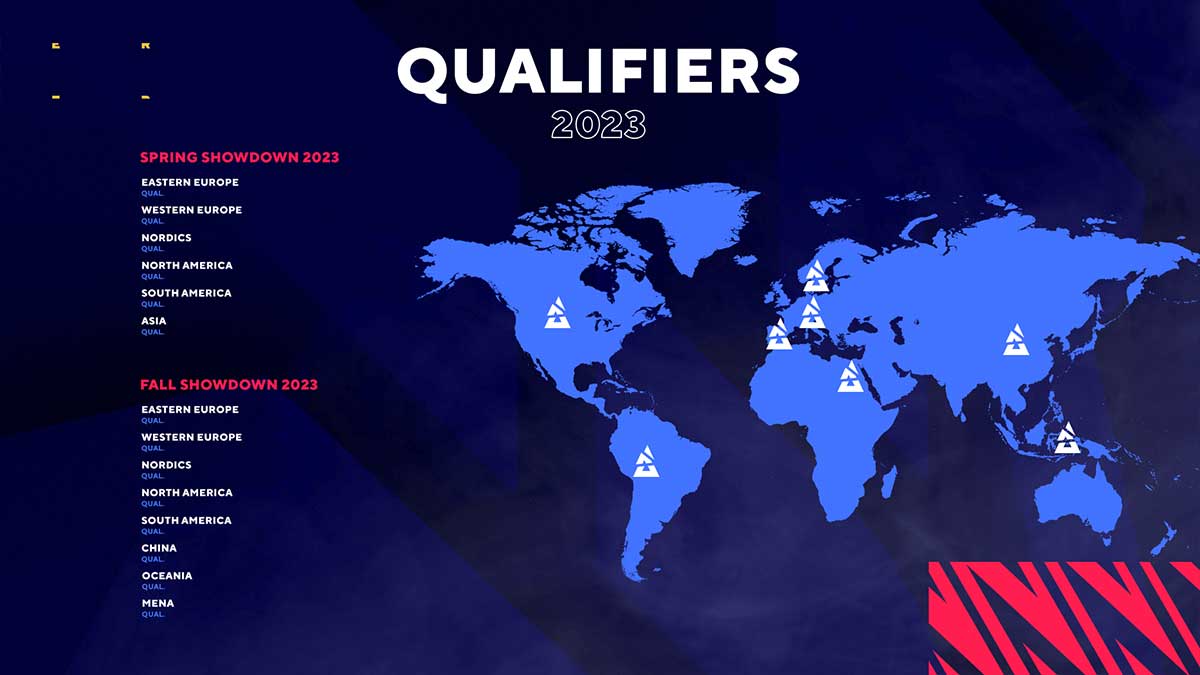 There will be seven events under the BLAST banner for 2023, and it looks something like this:
Spring Groups: January 19-January 29
Spring Showdown: April 12-16
Spring Final: June 7-11
Fall Groups: July 13-23
Fall Showdown: October 4-8
Fall Final: November 22-26
World Final: December 13-17
Each season of the BLAST circuit in 2023 will consist of a LAN Group Stage, an online Showdown, and an arena Finals. Only the top-performing of the 12 partner teams will advance to the second stage, where they will face off against invited and qualified non-partner teams in the infamously brutal Showdown.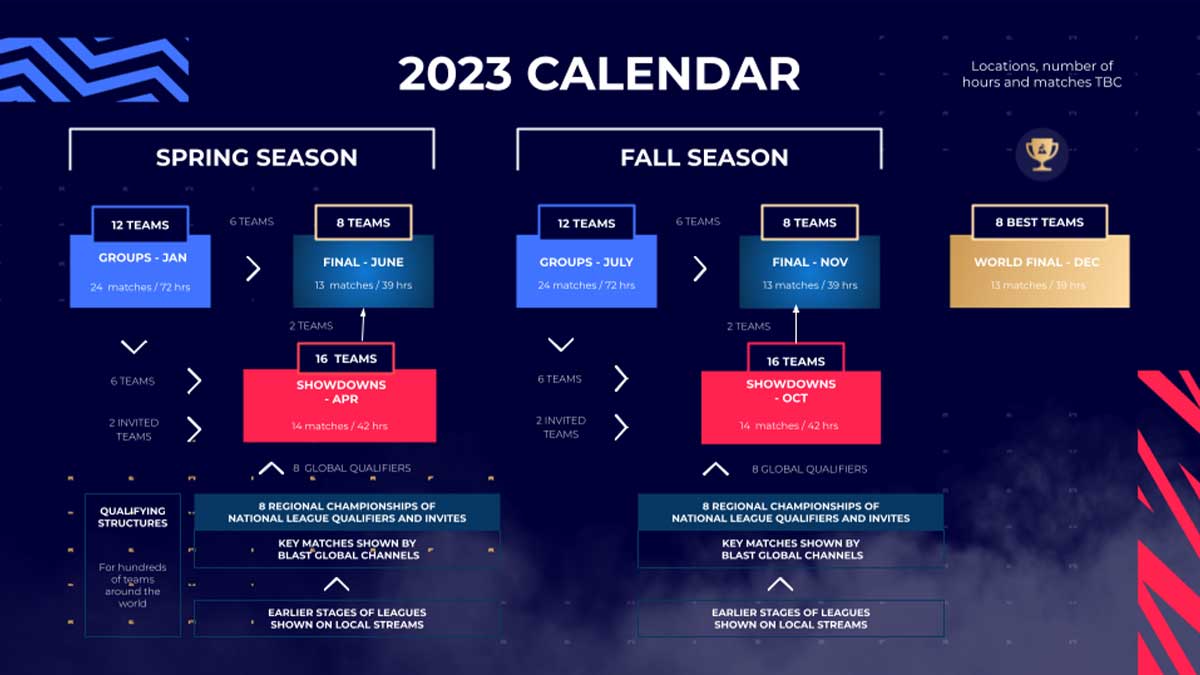 Spring and Fall 2023 BLAST seasons will include LAN Group Stages, online Showdowns, and arena Finals. All 12 partner teams will compete in the first stage, with the best qualifying for the Showdown.
Both Spring and Fall Groups will exclusively feature best of three's as the format for matches giving more hours of Counter-Strike than ever before. Group winners will advance directly to the respective Spring and Fall Final arena events. The remaining three teams in each group get placed into Gauntlet, the three winners of the Gauntlet also book their place in the Spring and Fall Final, whilst the losing six teams get placed into the Showdown events.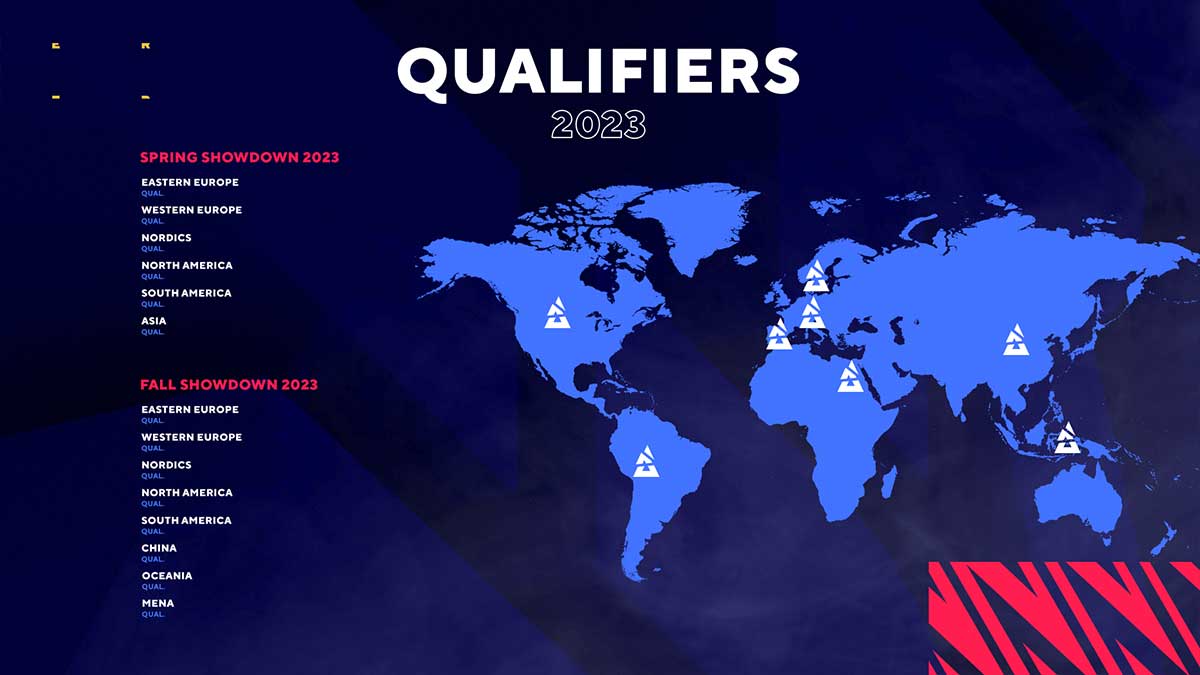 The regions for Spring Showdown Qualifiers are as follows:
Eastern Europe
Western Europe
Nordics
North America
South America
Asia
 Fall Showdown will have the following Regional qualifiers:
Eastern Europe
Western Europe 
Nordics
North America
South America
China
Oceania
MENA
Charlotte Kenny, Managing Director of BLAST Premier, said:
"We're excited for what the BLAST Premier 2023 season has in store in its fourth year. 2023 will be the second year running where we have all of our finals in packed-out arenas in leading locations around the world. We're excited to deliver another 12 months of next-level entertainment and follow up on the success of last year's arena events in Lisbon, Copenhagen and Abu Dhabi.

This year, the BLAST Premier Qualifiers return, giving grassroots teams the chance to play at the highest level against the world's best - with 14 regional qualifiers set to take place across the year."
The BLAST Premier 2023 season will have a combined prize pool of $2,475,000 on the line across the seven events.