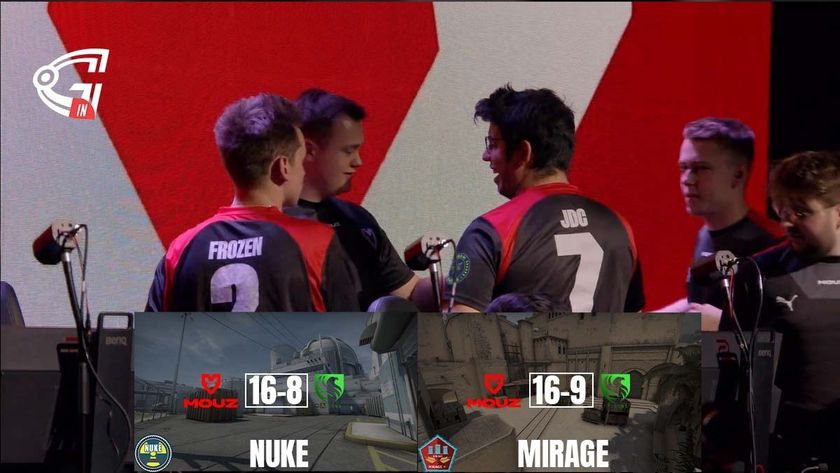 Global Esports Tour Dubai 2022 CS:GO Day 1 Game 3 Mouz Esports vs. Team Falcons
With the teams entrenched in their respective pits, the opposing teams chose the following maps for the competition – Nuke, Mirage, and Inferno.
Mouz clinches the first-round victory on the Nuke map and continues their dominating streak right to the very end, asserting dominance over the Nuke map in a clean 16-8 victory. Falcons Esports got their first victory on the Nuke Map in Round 3, performing a good comeback over Mouz with good rotations and timely rush on the opponents. Hadji from Falcons Esports shined forth in the Nuke map, as he did plenty of duo clutches (1 vs. 2) and gave his team a few easy wins. But unfortunately, Mouz with their fiery gameplay put up such a dominating performance, that they completely ousted Falcons Esports, giving them no breathing space. From Mouz, players JDC, and Bymas displayed decent performances, leading their team to victory in many rounds and getting their side out of sticky situations with considerable ease.
For the matches that were held on the 2nd map of Mirage, Mouz takes a clear lead right from the beginning, leading with a 3-0, winning all of the initial rounds to themselves. Team Falcons secured their first victory on the Mirage map in the 7th round, turning the scorecard into 5-1, proceeding to be more in the dominion of Mouz by changing into 8-3 after the 12th Round. It was only after round 15, that Team Falcons had a chance to get back into the game by leveling it with Mouz Esports in a brilliant display of skill and composure in a 1 vs. 1 situation. It was only in round 19 that Mouz broke through the deadlock, again advancing in the scorecards to a 10-9 situation. After a lot of back and forth between the two teams, Mouz Esports came out on top as the decisive winners of the pair-up between the two teams, winning the 2nd round of matches with a 16-9 advantage. The final shot taken by Torszi was a brilliant spectacle for all fans to see, as he took out Hadji with a perfectly timed quick scope of his marksman rifle.
Thus, after winning both the rounds with a considerable margin and arriving at the final score of 2-0, Mouz slides easily into the semi-finals to be paired up against Movistar Riders.