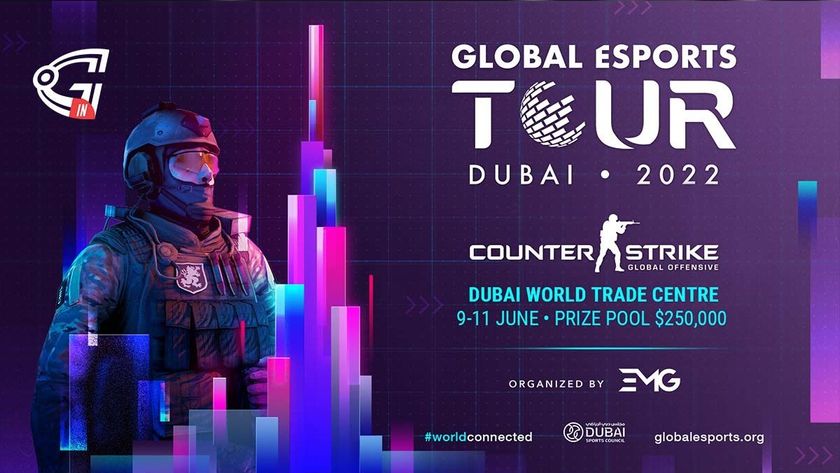 Global Esports Tour 2022 Commences from 9th June 2022
The Global Esports tour 2022 begins on the 9th of July with a total of 8 teams attending the event and will compete with each other in this tournament. The tournament is managed by Esports Management Group EMG and will happen at Dubai's world trade center. The Global Esports Federation is the one which is responsible for the launch of this massive event which will go on till 11th June, here we will witness a strong competition for the massive prize pool of $250,000 which will be shared among the 8 participating teams. 
The winner will get $100,000, 2nd placed will get $50,000 followed by 3rd and 4th who will get $25,000 and $25,000 and 5th to 8th will get $12,500x4. The tournament will be for 3 days where it is divided into quarter-finals, Semi-Finals and Final followed by single-elimination format brackets. Teams which are invited for this tournament are NiP, Mouz, Movistar Riders, Complexity, OG, Falcons, Tyloo and NASR. They will be playing the playoffs with the Best of 3 formats in this single-elimination method. 
Dates have been finalized and quarter-final brackets which are already up with the first game will be between Complexity and OG which will be at 11:30 IST on 9th June followed by Movistar Riders vs TYLOO that will commence from 15:00 IST after that the 3rd match of the day will be between MOUZ vs Falcons Esports at 18:30 IST and they will end the day with NiP vs NASR at 22:00 IST. The winners from each bracket will move to the semi-final stage with 4 teams eliminated. The first semi-final will be on 10th June at 19:00 IST and the 2nd one will be at 22:00 IST. The final will be played on 11th June at 22:00 IST. 
The map pool which is officially chosen are Vertigo, Dust2, Inferno, Mirage, Ancient, Overpass, and Nuke. So overall it can be said that we will be waiting for an entertaining tournament.