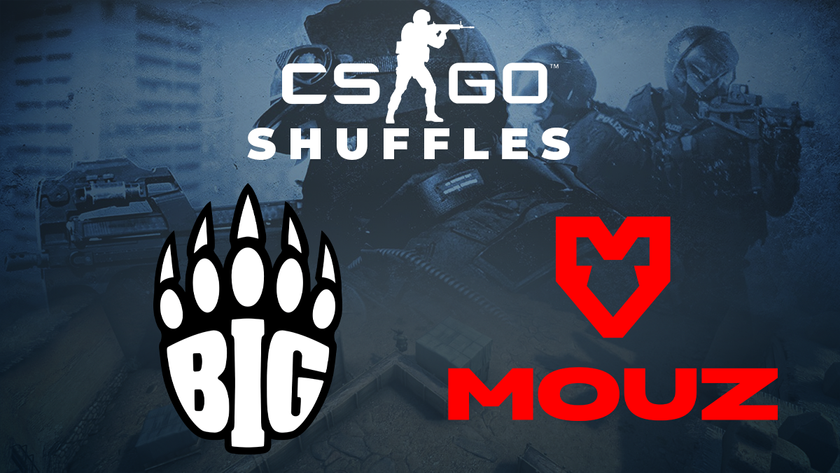 CS:GO Shuffles: NBK made inactive by MOUZ, JDC promoted from the academy team
Krimbo from BIG OMEN academy was also promoted to the main team.
Counter Strike as a community is full of ups and downs – especially when involving teams and rosters. As part of the community, academy teams are the best way for CS:GO to build up new blood and eventually promote the players to the main team after collecting experience playing in academy leagues. Two teams have recently made promotions with their academy players, with one unfortunately involving a celebrated professional player.

BIG
BIG has recently trialled one of their own BIG OMEN Academy for the first time. Karim "Krimbo" Moussa is now playing with the mainline team. He joined the BIG Academy team back in January of this year, so his trial is a big deal for him. Previously he was with cowana Gaming and ALTERNATE aTTaX.
He first entered the CS:GO professional world with Planetkey Dynamics in 2019. Since then he has played with BIG Academy twice and several other teams prior to the trial with BIG. He plays as a Rifler and acted as the IGL when he was with BIG Academy.
MOUZ
MOUZ announced that they have replaced NBK- with Jon "JDC⁠" de Castro effective 18 March. This is a surprising move as the team signed Nathan "NBK-" Schmit after coming in from playing VALORANT. The decision was in part due to the team's Group A fourth place finishing in the ESL Pro League, leaving them out of the playoffs.
According to head coach Dennis "sycrone" Nielsen,"After a disappointing EPL, all focus is on the RMR now. We decided that JDCs attitude, positivity and communications will be vital for the team going forward. We know it's tough for Nathan, but we strongly believe in the positive impact of Jons promotion."
In the aftermath of the decision, NBK- took to Twitter with his reaction saying that he is ,"….confused about such an unfair and rushed decision."
The two-time CS:GO Major winner with LDLC and Envy is now without a team in a Major cycle.