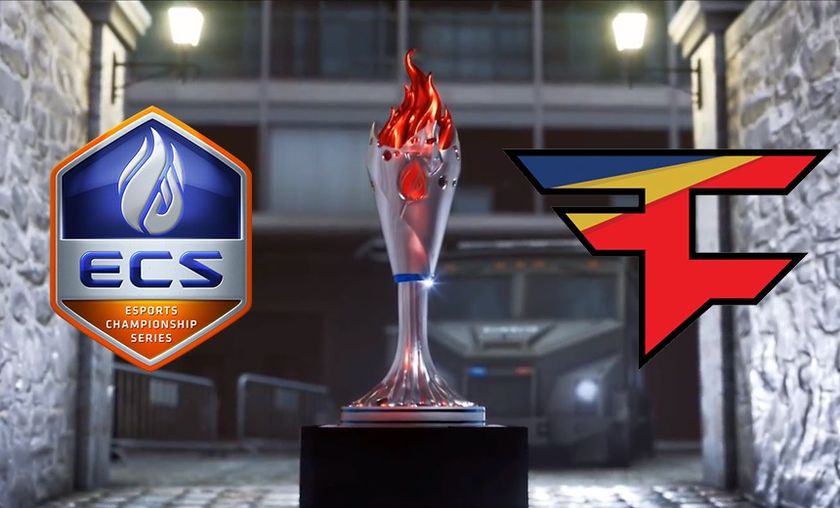 FaZe wins ECS over Mousesports after two overtimes
FaZe won Esports Championship Series (ECS) and claimed $250,000 over Mousesports in an exciting final that could have gone either way.
ECS Season 4 has come to an end and FaZe Clan is the champion of the last big tournament of 2017, barely besting Mousesports in a best of three that went into multiple overtimes. FaZe had a great run on this tournament and Mousesports made them work hard for this title; it was a great match from start to end with great moments of CS.
FaZe x Mousesports - ECS Season 4 Grand Final
FaZe - rain, olofmeister, GuardiaN, karrigan, NiKo
Mousesports - oskar, suNny, ropz, chrisJ, STYKO
Nuke - Map 1 - Mousesports pick (4-11) (14-16)
FaZe started on the Terrorist (T) side, taking the pistol round followed by the next two rounds to give themselves a 3-0 lead. Mousesports won the first gun round to make it 3-1 and had an amazing run to take the following eight rounds, showing great defensive set ups. Faze finally won another round after a force buy to make it 4-9, but Mousesports responded back right away and took the lasts two rounds of the half to close it with a 4-11 scoreline in their favor.
FaZe also took the pistol on their Counter-Terrorist (CT) side and won the next two rounds, cutting the gap to 7-11. Mousesports responded back on the first gun and won three rounds in a row to open a 7-14 lead. At this point FaZe had to pull a come back and they won another three rounds in a row to make it 10-14, but ChrisJ won a crucual 1-v-2 to give Mousesports five match points. FaZe was able to bring the game to a close 14-15, but Mousesports finally closed the map after Oskar had an excellent last round to make it 14-16 and give them the first map of the grand final.
Inferno – Map 2 – Faze pick (7-8) (15-15) - OT (3-3) (4-0) (22-18)
Mousesports started on the T side and won the pistol for the first time in the match and opened a 0-3. Mousesports extended their lead by winning another two rounds to make it 0-5. FaZe finally got a round with Karrigan winning a 1-v-1 and they kept going by taking the next six rounds turning the score around to give themselves the advantege with a 7-5 scoreline, but Mousesports wasn't done on this half and they took the last three rounds ending it with a 7-8 in their favor.
This time FaZe responded back and won the pistol on their T side and tied the game, but Mousesports won the force buy the following round and extended they lead to a 8-9. Faze won three round in a row to bring the score back in their favor 11-10. Winning anonther clutch with ChrisJ, Mousesports also won three rounds, to make it 11-13 and brake FaZe's economy. FaZe had to force buy and they won one the best rounds in the entire game, it could have gone either way but ended up favoring FaZe and helped them get to a 14-13 scoreline in their favor. From this point on, each team took one round, starting with Mousesports making it 14-14, Faze getting the match point 15-14 and Mousesports taking it to overtime 15-15.
First OT (3-3)
On CT side, Mousesports ended the first half of OT with a 16-17 lead. They then won the first round as T giving them two chances to close the entire tournament, that is when FaZe decided it was enough and Rain delivered a lot for his team, helping them deny Mousesports both tournament point to tie the game on 18-18 and forcing a second OT.
Second OT (4-0)
As the second OT started FaZe showed they didn't want to lose and won all three round on their CT side making it 21-18 in their favor. Faze only needed one round on their T side and they got it right away, closing the second map with a 22-18 scoreline.
Mirage – Map 3 – Decider Map (7-8) (15-15) - OT (4-2) (19-17)
Once again FaZe managed to win the pistol on CT side and opened 3-0, but they lost many players during those rounds and Mousesports had better weapons on the first gun round, which they won to a make it 3-1. Mousesports won another five rounds until FaZe finally won a force buy to make it 4-6 and they ended up tying the game with an Ace by Guardian to make it 6-6. The following round, it was Sunny's time to shine to his team and get a quadkill on Mousesports force buy which helped them get a 6-8 lead. FaZe won the last round of the half making the score 7-8 in favor of Mousesports.
On the final half of the last map FaZe won the pistol on their T side and took the lead once again with a 10-8 scoreline. Mousesports took the first gun round of the second half and with great rounds by Sunny they opened a 10-13 in their favor. FaZe wasn't ready to give up and they won three round in a row to tie the game in 13-13. Round 27 was probably the most important in the tournament, as it would decide who would have a bad money situation for the final rounds. FaZe was able to win and they reached two tournament points with a 15-13 lead. Somehow Mousesports managed to win the last two rounds and took the last map of the grand final to overtime once again 15-15.
First OT (4-2)
FaZe won the first round on their T side but Mousesports responded back and ended up leading the first half with a 16-17 scoreline. On the CT side FaZe won all three rounds to be declared the champion of ECS Season 4.