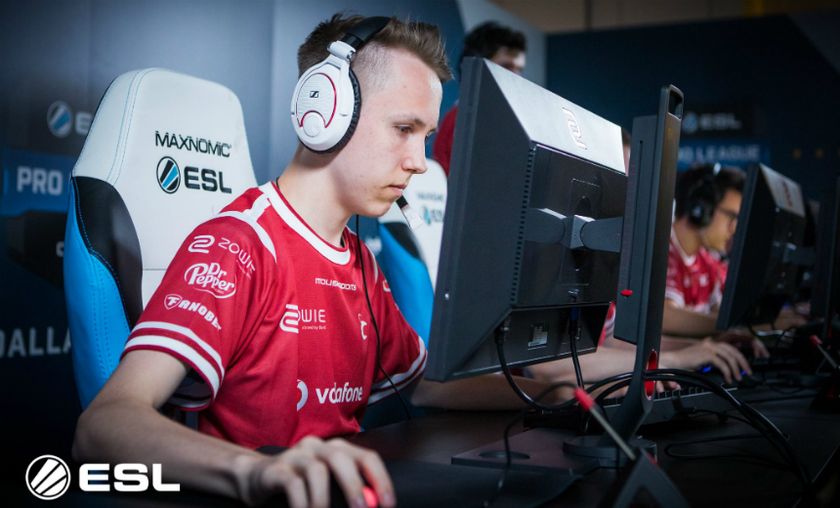 ESL Pro League Season 5 - Day one recap
Day one of ESL Pro League Season 5 concluded last night, with SK Gaming and North leading the charge of groups A and B respectively.
Early this morning the first day of ESL Pro League Season 5 had concluded, with a total of sixteen matches taking place. Two teams were clear leaders of their groups, as SK Gaming and North managed to secure flawless records, both teams playing three matches and winning every single one. Some of the teams played but two matches, more details below.
Below is a table containing the results for last night's matches:
 
The two teams that managed to flawlessly surpass their respective opposition were the Brazilian and Danish squads. The prior managed to overcome Cloud9 on de_Cobblestone with a brief 16:7 score, followed by another short match against fellow Brazilians, Immortals, that saw a 16:5 finish for SK on de_Mirage. Closing their 100% win rate was an ever shorter match against the Swedes of Fnatic, where a 16:3 score on de_Cache shocked all viewers. 
As for North, the Danes had some more juicier matches. The initial match-up against mousesports saw a terrific match that subsequently went into overtime, with North outlasting their opponents at 19:17 on de_Nuke. Next up were NRG Esports, a team that proved to be no match for the Danes, collapsing at a 7:16 score on de_Cobblestone. In conclusion of their first day run, North faced CIS representatives, Natus Vincere, on de_Mirage. A close match-up indeed, however North persevered and secured a flawless 3-0 after defeating Na'Vi with a 16:13 score.
#2 - 
Fnatic & 
Team Liquid (2-1)
Runners up of groups A and B respectively are Fnatic and Team Liquid. The prior managed to overcome Immortals with a dominant 16:9 score on de_Inferno, a map the Swedes hold close to their heart. Immediately after their match against the Brazilians, Fnatic faced the Frenchmen of Team EnVyUs, who they managed to defeat with the exact same score of 16:9, on the exact same map, de_Inferno. The only team able to stop the Swedes on their way to the top were group leaders, SK Gaming. Fnatic were stomped on de_Cache, sustaining a bitter 3:16 loss.
Team Liquid kicked off day one with a loss against the sole CIS representatives at the tournament, Natus Vincere. The teams faced on de_Train, where Liquid managed to accrue but four rounds, falling to a 4:16 score line come the map's conclusion. The team did not despair, and with a spring in their step they took on their next opponents, OpTic Gaming. The two faced off on de_Nuke, where Team Liquid managed to produce a dominant 16:5 victory over their opponents. Finalising their day one run was a match against NRG Esports, one that saw a close 16:13 victory on de_Mirage.
#3 - 
G2 Esports, 
mousesports & 
OpTic Gaming (1-1)
G2 Esports, mousesports and OpTic Gaming all played only two matches on day one, all sporting a 50% win rate following its conclusion. The Frenchmen faced their compatriots Team EnVyUs in their initial match-up on de_Nuke. The map came down to the wire, with G2 Esports pulling it off at a nail-biting 16:14 victory.
Mousesports were the first to perform on group B, facing the Danes of North. The team didn't go down without a fight, falling in an overtime on de_Nuke at a heart-breaking 17:19. The team made up for the loss in their match-up against Natus Vincere, however, as the teams pushed de_Cobblestone  into overtime, only for mousesports to deliver a flawless blow at 19:15.
OpTic Gaming first faced NRG Esports on de_Cache, a match that went into overtime. In said overtime the "Green Wall" was able surpass their opponents, allowing but a single round to be secured in extra time with a 19:16 victory. Their next test proved to be more difficult, with OpTic severely struggling against Team Liquid on de_Nuke. The team was unable to produce much against the opposition, securing but 5:16.
#4 - 
Natus Vincere,
Cloud9 & 
Team EnVyUs (1-2)
Natus Vincere started off with a match-up against Team Liquid, where the team managed to produce a strong result that saw a 16:4 victory against the Americans on de_Train. Next up was a match against mousesports, where the CIS reps fell in overtime on de_Cobblestone, unable to secure a single round over the course of extra time at 15:19. The final match for Na'Vi was against group leaders, North. The teams faced on de_Mirage, and the CIS mix was able to put up a fight, however the Danes secured a close victory with a 16:13 score.
Cloud9 commenced their run with a loss against group A's leader, SK Gaming. The teams met on de-Cobblestone, with Cloud9 able to produce a total of seven rounds before falling to SK Gaming (7:16). The next match-up saw the American roster bounce back against G2 Esports, where the team dominated the Frenchmen on de_Inferno, closing out with a dominant 16:4 score. Finalising their run, Cloud9 unfortunately lost to Team EnVyUs on de_Cobblestone with an 11:16 score.
Team EnVyUs started their day with a bitter and extremely close loss against their countrymen, G2 Esports. The match came down to the final round, with G2 Esports whisking it away at 16:14. Another loss was sustained by the Frenchmen in their pairing with Fnatic, as the Swedes managed to secure a win on de_Inferno with a 16:9 score line. With a single match left for the day, EnVyUs were determined to secure one at the very least, defeating  Cloud9 on de_Cobblestone at 16:11.
#5 - 
Immortals (0-2)
A disappointing day one for Immortals, as the team fell in both of their matches. The first loss was against Fnatic on de_Inferno, where the Swedes ran away with a 16:9 score. As for the second, and final match, the Brazilians faced their close friends, SK Gaming. The group leaders showed no mercy for their brothers, demolishing them with a 16:5 score, consequently knocking Immortals to the bottom of group A.
#6 - 
NRG Esports (0-3)
NRG Esports was the only team to have played three matches on day one, losing every single one. The team initially faced OpTic Gaming, a match that saw an overtime. In said overtime NRG were unable to persevere, falling at a 16:19 score line. Next the team faced group leaders, North, where only seven rounds were accrued on de_Cobblestone at 7:16. Finally the team met Liquid to close out the day, and despite it being a close score, the team was unable to show up, falling once more at 13:16 on de_Mirage.
Image courtesy of ESL