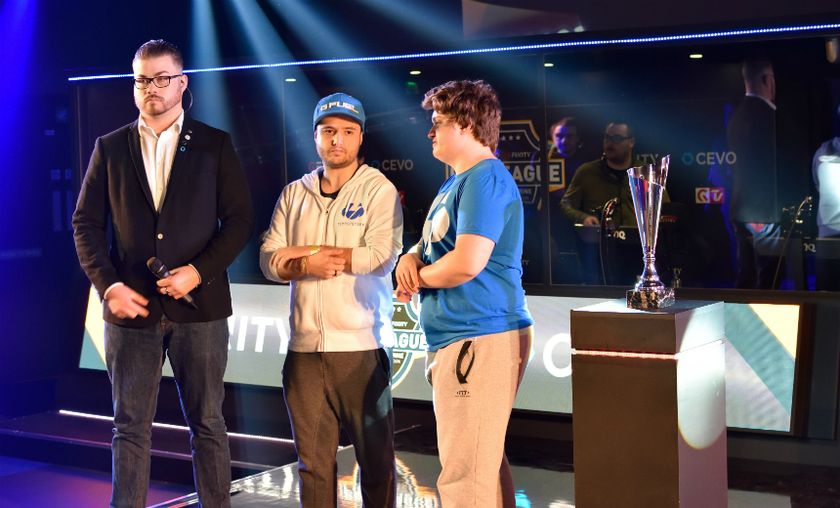 Gfinity/CEVO Season 9 Finals - Day 2 recap
Splyce vs.
OpTic Gaming - 3:12, 0:4 (3:16); 11:4, 5:8 (16:12); 6:9, 2:7 (8:16)
Winner:
OpTic Gaming - 2:1
Maps: de_mirage, de_train, de_cbble
MVP:
Will "RUSH" Wierzba
A crazy first map for OpTic, which made them look destined to take the series with absolute ease. Splyce were basically absent on Mirage, and only took three rounds off of OpTic.
On Train, it suddenly turned around with Splyce taking an incredible 11 rounds for the first half as terrorists. But even while moving onto the easier side, the Canadians took the initiative to make it a close score line at 16:12, losing out but at least not in such an excruciating fashion as Splyce on the map before.
Cobblestone eventually showed the skill gap between the two teams, as OG took it 16:8. Remembering the OG vs. HR match from yesterday it has become quite clear that OpTic have developed a great understanding of this map.
Tempo Storm vs.
Dignitas - 9:6, 7:6 (16:12); 8:7, 4:9 (12:16); 5:10, 11:4 (16:14)
Winner:
Tempo Storm - 2:1
Maps: de_mirage, de_cbble, de_cache
MVP:
Joao "felps" Vasconcellos
While TS took an early lead as the CTs on Mirage, Dignitas brought it back to make an 9:6 half time score. But as Tempo Storm took the second pistol round as well, they set themselves onto 13:6. Despite a great comeback attempt from the Danes, they had to give in at 12 points to make it a 16:12 map in favour of the Brazilians.
On Cobblestone, a map famously great for both teams, Tempo managed to win the first half by the slightest of margins, with 8:7. But in the following they were unable to break the Danish defence, that held sway despite some momentum breaks in between. With the same score line as on Mirage it was Dignitas to bring the map home this time.
Tempo Storm were in great trouble on Cache, as their terrorist performance simply did not matter and the Danes just went away with the first half 5:10. As they were switching over to the defence, however, they made a huge comeback from a 9-14 deficit. With felps going crazy and Dignitas choking at the finish line, the Brazilians took them down at 16:14 to advance to the semi finals.
Virtus.Pro vs.
HellRaisers - 5:10, 9:6 (14:16); 8:7, 3:9 (11:16)
Winner:
HellRaisers - 2:0
Maps: de_mirage, de_cbble
MVP:
Tomáš 'oskar' Šťastný
Despite VP being the favourites in this matchup, they struggled heavily in the first half. Despite their greatest efforts they were unable to get past 5 rounds as terrorists. As they themselves had the chance to establish a proper defence, they rolled it back until they were sitting on a 14-13 lead. At this point, the Slovakian team had to grind back, which they did in pulling out the win 16-14.
The final score line of the second map does not tell the whole story. Although VP brought it somewhat close, the match was simply in Hellraiser's hands from start to finish. Although being cut off multiple times, they carried over a momentum that started with them taking the second round after losing the pistol, and ended in a confident 16:11 win.
SK Gaming vs.
Dignitas- 12:3, 4:0 (16:3); 11:4, 5:7 (16:11)
Winner:
SK Gaming - 2:0
Maps: de_cbble, de_overpass
MVP:
Andreas 'MODDII' Fridh
A true break-out match on the one side, and a break-in on the other. SK's individuals, especially those who were called out as being the weaker links, have stepped up massively in this series, whereas the dignitas side basically went vanishing. On the first map, Dignitas looked hot after taking a decisive first pistol round and the subsequent anti-ecos as well. But nothing followed after that. Literally nothing, as SK took the map 16:3.
On Overpass, we would come to see whether Dignitas have hit their breaking point, and after an 11:4 half that was not in their favour, things did not really look that crisp for them anymore. But switching over to the terrorist side they were able to bring the fight to SK and actually win it, which enabled them to creep up to 11 points in total. But not without SK taking it to 14, and at this point no one could stop them. With a 16-11 win, SK brought home a decisive victory over their domestic rivals who were actually the clear cut favourites.
Virtus.Pro vs.
OpTic Gaming - 12:3, 4:3 (16:6); 12:3, 4:5 (16:8)
Winner:
Virtus.Pro - 2:0
Maps: de_mirage, de_inferno
MVP:
Janusz 'Snax' Pogorzelski
After a series of lacklustre performances here at GFinity, VP have finally woken up to stay in the competition. Despite losing the first round on Mirage to OpTic, they got right back into it and did not let go of their momentum until round 13. They accumulated an impressive 12 rounds as terrorists, which once again goes to show how great Virtus.Pro can be on T-side Mirage, and how broken the CT-defences from OpTic really are. Despite a short three-rounds comeback, the Canadians were forced to let go of the map at a demeaning 16:6.
With hopes set high to bounce back on Inferno, especially considering that OG were starting as terrorists and thus were in the driving seat, they went into the match only to face an early 9 rounds lead from the Poles. Similarly to the first map, OpTic were unable to get past three rounds in the first half and as the Polish squad transferred their momentum over to the T-side, the Canadians faced elimination point at 15-3 already. Finally, their players were starting to show up on the score board as they were slowly grinding towards double digits, but at such a point you simply cannot turn the match around. One mistake, and everything implodes, just as it did at 15:8 when Virtus.Pro got the last round to close it out.