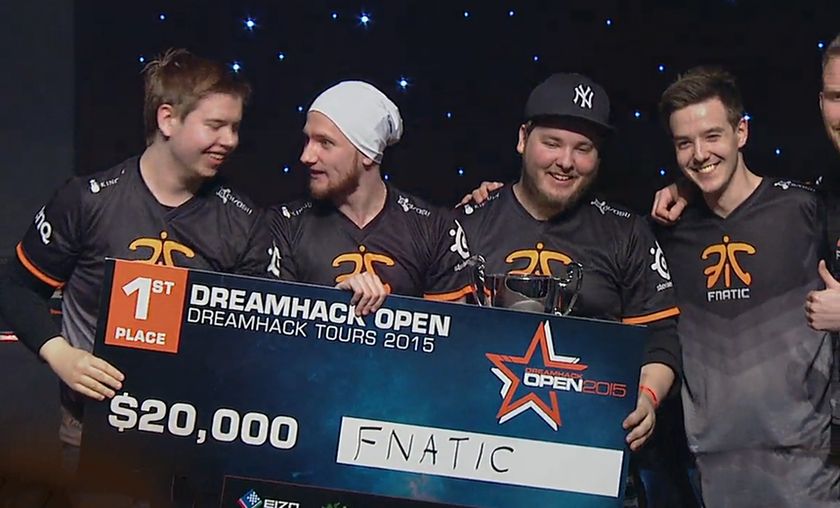 Fnatic are your DH Tours champions

The first tournament of DreamHack Open 2015 has concluded with Fnatic reigning on the top.
The first stop of DreamHack Open 2015 was at Tours in France where we saw some of the best teams in the world fighting for the grand prize of 20,000 USD. Probably the most anticipated match between Fnatic and Team EnVyUs was actually seen in the grand finals.
The French team had a better opening as they literally stomped Fnatic on T side of de_dust2, winning 11 rounds and closing this map with 16-7. However, the Swedes didn't give up so early and they returned the favour in the same fashion. The second map of this series was de_mirage where Fnatic took a huge lead taking 11 rounds on T side in the first half. The end score was 16-10 and the champion had to be decided in the third map, which was de_cache. Once again we saw the same scenario where Fnatic, led by flusha, who was acting as in-game leader at this tournament, won 11 rounds on T side and it was just matter of the time when they were going to close this map and win the title. It turned out that EnVyUs couldn't win more than 1 round in the second half and Fnatic won this map with 16-5.
Standings:
1.
Fnatic - $20,000
2.
Team EnVyUs - $6,000
3-4.
Team Dignitas - $3,000
3-4.
HellRaisers - $3,000
---
More content on GosuGamers: