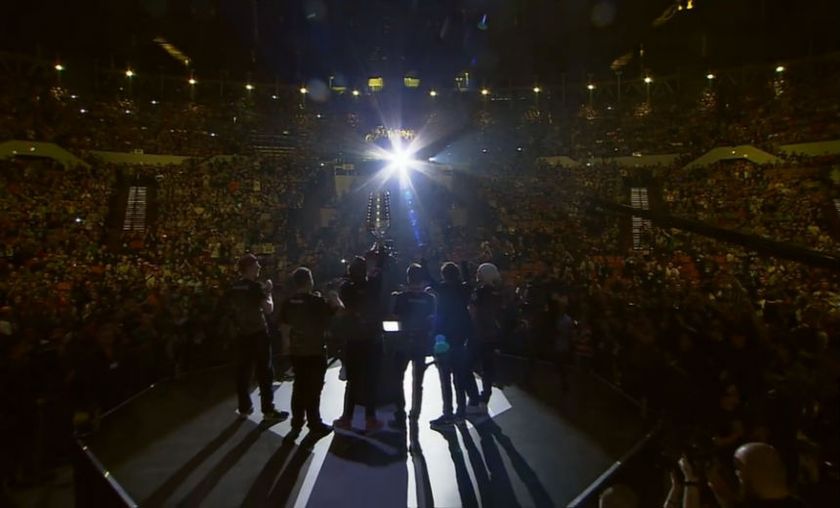 fnatic are your ESL One Katowice 2015 champions!
In a clash between two Swedish power houses, Fnatic prevailed and they are the first team to win two major tournaments in the CS:GO competitive scene.
Click here for results, VODs and all the other information
Coming to the grand finals both teams had a tough time deciding which map to pick. In the end, more or less expected Ninjas in Pyjamas decided to go with de_dust2, while Fnatic picked de_cache. The random pick of the third map was de_inferno, probably the best we could hope for in this case.
Fnatic decided to start on CT side of de_dust2 and we saw NiP having no problem with that as they performed a really well executed pistol round. They were holding A site and making sure that everything was clear before the bomb went down, in the end Fnatic were overwhelmed. However, Fnatic quickly responded by taking the next six consecutive rounds which put NiP on the back foot. Once the number of Fnatic's rounds reached the eight mark they slowed the pace and NiP got back into the game. But, five rounds was the most they could get from that not so great half. The second half brought us even more excitement starting with the pistol round. olofmeister with the tec9 was left alone against three NiP players and he managed to kill them all but they actually defused the bomb before they went down, which brought a round to NiP. Fnatic were struggling a bit until the first buy round which they took in their favor and they slowly started building up the momentum. However, once they hit 13 rounds the same thing happened to them as in the first half when they had 8 rounds. NiP made a nice comeback mostly lead by phenomenal plays of Xizt who totally locked down a B bombsite, and the score was tied 14-14. In the end Fnatic with patience and great play won Dust2 in a 16-14 scoreline.
Ninjas in Pyjamas decided to do the same thing they did yesterday in the semi finals. They decided to start on the T side of de_cache. This paid off for GeT_RiGhT and co. as they climbed up to 5 rounds very quickly. However, led by olofmeister and an agressive play on A main of JW, Fnatic got back into this match and they actually had a lead of 8-7 at half time. The second half brought us a thrilling pistol round where NiP players managed to overcome the odds to win 2v3 situation and to defuse the bomb. From that point on NiP was looking strong on their CT side, not allowing Fnatic to score even a single round. At the score of 8-14 Fnatic finally managed to win their first round on T side. In the end they could take only one more as this map went to NiP with the score of 10-16. GeT_RiGhT and allu were leading the scoreboard for NiP and they were deffinitely the key to success.
To round up this great series in the grand finals, NiP and Fnatic had to play on one more map, de_inferno. Fnatic started on the CT side and quickly made it 1-0 for them. However, NiP made it back to 1-1 and the true battle for the economy started. Both teams were going back and forth forcing buys and in the end Fnatic came out on top, claiming the first half in a dominant 11-4 scoreline. The second half kicked off so well for them making it quickly to 15-4, but that's when NiP woke up and started slowly working on their comeback. Fnatic were trying a wide array of strats on how to finish off the NiP's defenses, but nothing was working out. They managed to place the bomb down multiple times, but NiP would retake it and prolongue the match. In the end, it all fell down to olofm and KRiMz to hold in 2v3 situation, and they succeed. Fnatic took it 16-13 and they are the first team who have won 2 major tournaments so far.
Prize pool distribution for top 4:
1.
Fnatic - $100,000
2.
Ninjas in Pyjamas - $50,000
3.
Team EnVyUs - $22,000
4.
Virtus.pro - $22,000
Round 2 - Best of 3
Round 3 - Best of 3
---
More content on GosuGamers: