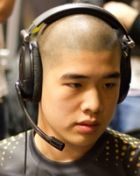 Epsilon eSports replaces fxy0 with sixeR
Epsilon eSports has announced that they will be replacing their former player Joey "fxy0" Schlosser with CS 1.6 legend Christophe "sixeR" Xia.
Schlosser joined the team earlier this year, replacing Valentin "mistou" Balbastro and has since helped the team reach major victories in many tournaments. However, Epsilon has announced that they will be replacing him due to attitude reasons. 
Greg "Slick" Champagne, Epsilon eSports' CEO has made a statement about the roster change:
"

Although a brilliant player, the decision was taken unanimously after several attempts to contain his difficult attitude in game. We would like to thank fxy0 for his hand in many of our successful wins along the year.
This lead on to the difficult task to find a new 5th player, and we are extremely excited to announce the CS 1.6 legend Christophe "sixeR" Xia will be jumping in. With a strong desire to return and 100% commitment, we will give him the necessary tools for what we hope will be another brilliant professional gaming career."
Xia will be attending SLTV StarSeries XI LAN Finals later this week on October 18 at the Kiev CyberArena in Kiev, Ukraine with the rest of the Epsilon team. Additionally, Gordon "Sf" Giry will not be able to attend this tournament. Standing in for him will be the Turkish star Engin "MAJ3R" Kupeli, who has subbed for the team previously.
Epsilon eSports will now have the following starting roster:
Adil "ScreaM" Benrlitom

Robin "GMX" Stahmer

Kevin "Uzzziii" Vernel

Gordon "Sf" Giry

Christophe "sixeR" Xia