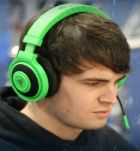 ex-Mousesports Trio form new CS:GO Team
A new UK CS:GO team has been formed under the name of "The Lone Rangers". The team features some of the best players in the United Kingdom, including the majority of former UK Mousesports.
The UK CS:GO scene has recently suffered from disappointing results, with top-tier UK teams such as fm-eSports and Infused performing poorly at international events like Copenhagen Games and Gfninity 3. There has also yet to be a single UK team to qualify for a major international event, specifically at EMS One Katowice and ESL Cologne. A former mousesports trio hopes to change that, creating a new all-star team under the name of The Lone Rangers.
The team will consist of former mousesports players Sam "RattlesnK" Gawn, Daniel "RE1EASE" Mullan, and Brandon "weber" Weber. Together with former Infused player George "hudzG" Hoskins and Luke "FearLess" Morris, the team hopes to be able to compete in an international level.
The squad has also registered for a spot in the upcoming Electronic Sports World Cup (ESWC) finals, which will be held at the Porte de Versaille in Paris, France. They hope that their respectable player history will convince the organizers to let them play. 
In addition, the players are currently looking for an organization to help send them to local and international lan tournaments. They can be contacted at [email protected].
The Lone Rangers now has the following roster:
Sam "RattlesnK" Gawn

Brandon "weber" Weber

Daniel "RE1EASE" Mullan

George "hudzG" Hoskins

Luke "FearLess" Morris