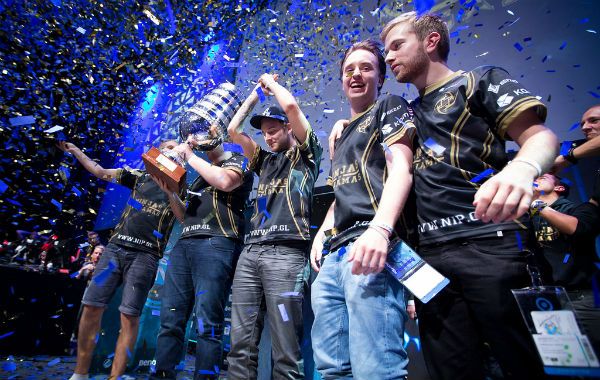 Ninjas in Pyjamas are your ESL One Cologne 2014 champions!
ESL One Cologne is over and the champions stand strong. After a great run through the tournament with wins over LDLC in semis and Fnatic in the grand finals, NiP walk away $100,000 richer.
Round 2 - Best of 3
Round 3 - Best of 3
Schedule for Day 4 Finals:
09.00 CEST-  Fnatic vs Team Dignitas - BO3 - Semi Finals
12.00 CEST-  Team LDLC vs Ninjas in Pyjamas - BO3 - Semi Finals
15.00 CEST-  Fnatic vs Ninjas in Pyjamas - BO3 - Grand Finals
---
The first map of the finals is de_cobblestone which was a Fnatic's pick. NiP decided to start from T side and Fnatic already showed them how strong they are at this map during the first pistol round where they made a knife kill. Fnatic extend their lead to 3-0 after the two eco rounds, but the upset came with the first gun round. NiP made the result even 3-3 after which Fnatic started to score round after round making it 11-4 at the end of the first half, JW made some incredible plays roaming around with the AWP and finding the kills. Everything was looking good for them, but NiP was going to the more favored side of this map in the second half and they still had to show what they're capable of. Fnatic tried to go through the dropdown at B side, but NiP sent two players guarding that place which made slaugther of the T players and NiP started building their comeback slowly. After two eco rounds Fnatic had a chance to increase their lead with the guns, however NiP denied it and forced them again in eco and it just kept repeating and the first map went to Ninjas in Pyjamas with 16-11.
Map which was chosen by NiP got dominated by the other Swedish team in this finals, Fnatic. Fnatic won pistol round at CT side and had some trouble in next 2 rounds which went to NiP, however from that point on they were dictating the tempo of first half to finish it 11-4. The second half have seen again Fnatic winning the pistol, two eco and the first gun round of NiP to make it 15-4. NiP was resisting four rounds but in the end Fnatic scored their first point in this finals to make it 1-1 and they will be going to the third and final map of this series.
It all fell to the last map of this series, NiP started on T side by winning the pistol round, however Fnatic managed to win an eco round and to turn it around to 1-5. NiP striked back led by friberg with ace, making it even 5-5, but Fnatic clutched 9-6 score in the end of the first half. The second half started with Fnatic taking the pistol round and later on making it 11-6, but then NiP won an eco round and managed to close by with 11-9, Fnatic broke their streak for 12-9, but then NiP went again for three rounds in a row making it 12-13, Fnatic takes again one round for 13-12 where NiP was forced to buy and still GeT_RiGhT and co. managed to win that round for 13-13 which then just snowballed to 16-13 since Fnatic was forced to go in double eco and force buy at the last round with CZ's. Ninjas in Pyjamas are you ESL One Cologne champions!
---
Team LDLC vs Ninjas in Pyjamas
The second semi finals match started on de_inferno where LDLC kicked off at T side by winning seven rounds in a row. The Swedes striked back with 2 rounds in a row, but that wasnt enough to stop the French team to totally dominate the first half with 11-4. Second half started in the same fashio, LDLC won four rounds in a row making it 15-4, but then NiP just woke up and made LDLC to sweat by winning 6 consecutive rounds, however the Frenchies didnt allow them to make a full comeback and they're leading now with 1-0 in this series.
NiP made their pick which was nuke, coming in with the defecit of one map in this best-of-three series they had to take this map in order to still stay in this semi finals. LDLC had right to pick the side and they went for the more favored CT side. The Swedes won a pistol round, however the French team returned with 4 rounds in a row, but they got stopped there by brilliant play from NiP players who made it 7-4 and in the end 9-6 first half on T side. The second half was the pure execution from NiP players, finishing 16-6 and moving to the final map of this series.
The final map of NiP vs LDLC series were played on de_cobblestone, where the Frenchies started on CT side by winning the pistol round. However, the Swedes won an eco round where Xizt managed to win in 1vs2 taking both Maniac and apEX for 1-1. NiP followed with 2 more rounds and made it 3-1, however LDLC then started playing by book as CT and made it 7-3 and when everything was looking perfect for them NiP made another streak scoring 7 rounds at the end of the first half. The second half was even until the very end of the game. Both teams were trading rounds and we could have seen a great individual plays from each player on the map. However, in the end the Swedes were more cold in the finisher and made it 16-14 in their favor and they are now the second finalists of ESL One Cologne.
---
Fnatic perfectly opened this map by winning the pistol and three rounds after making 4-0. Dignitas managed to break this streak, however Fnatic was more dominant team in the first half making it 9-6 for the Swedes at CT side. The Danish team won the second pistol and an eco round to make it 9-8, but Fnatic showed once again how good they are making it 14-8. In the end Dignitas could only take 3 more rounds before Fnatic closed this map into their favor.
The second map of this series was one of the newly added maps to the competitive pool, de_overpass. Fnatic won the pistol round on T side, however Dignitas managed to take the next round although they were eco and from that point on they just dictate the tempo of the game. At one point they had 10-2, but the Swedes took 2 rounds in a row and finishing the first half with 4-11. The second half seen once again T side winning the pistol round, however Fnatic repeated the same scenario of Dignitas from the first half and won an eco round and made a full come back making it 12-12. The Danish team stepped up and made it 12-14, but in the end Fnatic won two crucial rounds by using mag-7 and made it through the Finals.
---
Headline and rotator image by Kelly Kline and ESL.
Click here for results, VODs and the all other information