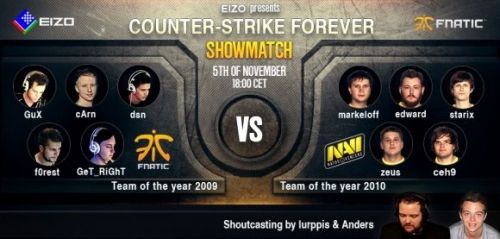 CS 1.6 and CS:GO Showmatch with fnatic & Na`Vi

Update: Na`Vi 2010 managed to win over fnatic 2009 with 3:2 in maps.
 
| Game | Map | Winner |
| --- | --- | --- |
| Counter-Strike 1.6 | de_inferno | fnatic (16:09) |
| Counter-Strike 1.6 | de_tuscan | Natus Vincere (16:13) |
| Counter-Strike:GO | de_dust2 | Natus Vincere (16:09) |
| Counter-Strike 1.6 | de_dust2 | fnatic (16:13) |
| Counter-Strike 1.6 | de_mirage | Natus Vincere (16:10) |
To celebrate the announcement of Eizo's newest gaming monitor, Fnatic and Na`Vi will compete in an showmatch named Counter-Strike Forever this Tuesday November 5th 18:00 CET. Key fact in this showmatch is that both organisations will not be represented by their current teams, which makes the match like an all-star game.
With three retired players, Fnatic will be represented by their 2009 lineup under their leader Patrik "cArn" Sättermon now known as fnatic's CGO. Sättermon is joined by his longtime teammate Harley "dsn" Örwall and Rasmus "GuX" Ståhl who both retired before CS:GO was released. Ninjas in Pyjamas starplayers Christopher "GeT_RiGhT" Alesund and Patrik "f0rest" Lindberg will be the last two players from 2009 dominating lineup. On the other side will be Natus Vincere with their original Ukrainian squad that recently broke up in July due to the creation of Astana Dragons who recruited Yegor "markeloff" Markelov and Ioan "Edward" Sukharev.
The showmatch will be played in two different games, Counter-Strike 1.6 and Global Offensive, in Best-of-Five. The live stream will be provided of Anders "Anders" Blume and Tomi "lurppis" Kovanen.
Patrik "cArn" Sättermon:
 
I'm more than excited to once again team up with the Fnatic 2009 lineup to face one of our toughest rivals of all time, NaVi 2010, in EIZO's Counter-Strike Forever. In this best-of-five show match in CS1.6 and CS:GO we are hoping to perform our very best to defend our legacy, and defeat the Ukrainian powerhouse that claimed our throne in 2010.

I would like to extend my gratitude to NiP, NaVi, and Astana Dragons for making this event possible, and I advise all the Counter-Strike fans out there to clear your schedule from 6pm on 5th November since you can't miss this.
| Lineup fnatic 2009 | Lineup Na`Vi 2010 |
| --- | --- |
| Patrik "cArn" Sättermon | Yegor "markeloff" Markelov |
| Christopher "GeT_RiGhT" Alesund | Sergey "starix" Ischuk |
| Patrik "f0rest" Lindberg | Danylo "Zeus" Teslenko |
| Harley "dsn" Örwall | Arsenij "ceh9" Trynozhenko |
| Rasmus "GuX" Ståhl | Ioan "Edward" Sukharev |
Source: fnatic.com
Picture: fnatic.com