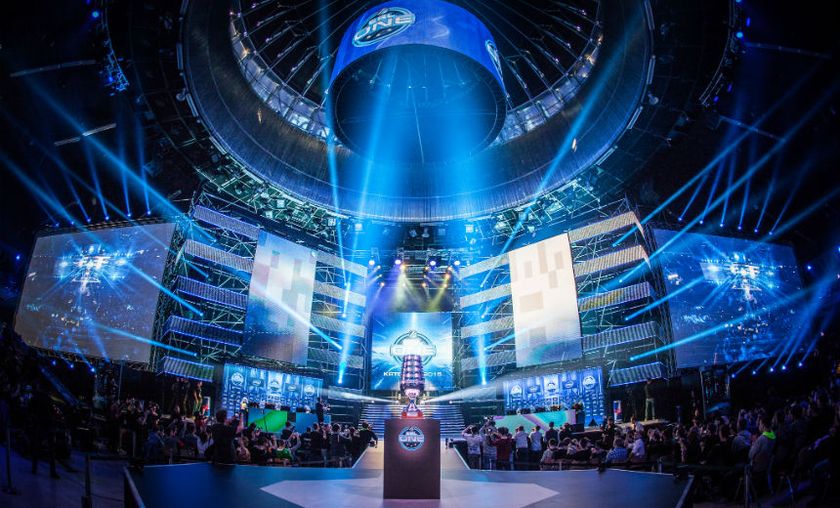 Post-Katowice Impressions
Click here for results, VODs and all the other information
The first major Counter-Strike: Global Offensive event of 2015 just concluded a few days ago at the Spodek arena in Katowice, Poland.  The tournament exuded plenty of hype going in, and did not disappoint in its presentation of big games and big players on the grandest of stages.  There were a handful of upsets at ESL One Katowice, but the elimination bracket more or less played out as expected. While the final four teams in the bracket were the #1-4 ranked squads in the GosuGamers rankings, it was Fnatic who ultimately made history.  The dominant Swedes hoisted the trophy as the first CS:GO team to win two major championships in the game's relatively young history.  Read on for general takeaways from the event, including individual and team performances, and what the results of Katowice may dictate in the near future.
The Swedish rivalry
The rivalry between the Ninjas in Pyjamas and Fnatic organizations dates back to the old school days of Counter-Strike 1.6.  The current rivalry can be traced back to DreamHack Winter 2013, where Fnatic had its coming out party with a victory over NiP in the grand final.  At Katowice, everyone was fully expecting Fnatic to blast their way to the championship match.  NiP, however, was more of a wild card, with a recent roster change of allu in for Mikail "Maikelele" Bill less than a month ago.  In reality, no one should have doubted the Ninjas.  They have, after all, advanced to all five major events' grand finals, despite winning only one of those.
Katowice had many miraculous moments and intriguing storylines, but nothing was as compelling as the best-of-three final between the world's two best teams.  Watching Sweden's elite go back and forth on all three maps and push each other to their absolute limits was akin to Muhammad Ali slugging it out with George Foreman.  At many points, it seemed as if allu and olofmeister were each destined to carry their respective teams to glory.  Unfortunately, only one could be the hero, and that man was Olof "olofmeister" Kajbjer.  With an overall tournament kill/death scoreline of 205/147, olofmeister was easily the most valuable player in Poland this past weekend.  His aggression on terrorist side was unmatched. His confidence in challenging the opposition in one-vs-x exchanges was incredible.  Olof has emerged as the true superstar in this Fnatic lineup.
 

On the flip side, Aleksi "allu" Jalli had a lukewarm LAN debut for NiP.  In both group stage matches, along with the Ninjas' quarterfinal and semifinal matches, his performance was passable, yet certainly not impressive.  Nevertheless, allu came to play at the most important time; in the grand final.  Posting a 75/54 scoreline across the three final maps, he was the thorn in Fnatic's side that refused to go away. Every time it looked like Markus "pronax" Wallsten and his teammates had asserted command, allu was there to produce a two or three frag round.  Without his early picks and clutch plays, fnatic would have had a much less daunting foe to overcome.
It is fairly safe to say that neither of these teams will be making any lineup changes anytime soon.  Fnatic is still the head of the class, while NiP has demonstrated the kind of monumental effort it will take to dethrone them.  Allu has given the latter a fifth player they can really rely on in high pressure matches. Look for NiP to continue evolving as their Finnish star becomes more acclimated with their play style and strategies.  It would not be surprising to see Fnatic and NiP meet yet again in the grand final of ESL One Cologne.  Fans surely would not mind many more battles between these two squads, as the atmosphere is unbelievably electric.
Is Brazilian Counter-Strike back?
The story of Keyd Stars, formerly known as KaBuM, is a wonderful example of what the eSports community is capable of achieving.  After securing a spot at the Katowice offline qualifier last month, Gabriel "FalleN" Toledo and his teammates needed to raise the money necessary for travel and accommodation expenses.  Through generous donations from the public, as well as sizable sums from ESEA and Robin "flusha" Rönnquist, the Brazilians attended the qualifier and earned a berth in the main event.
Keyd Stars had a tough first draw against NiP, and were convincingly dispatched 16-9.  They battled through adversity though, beating HellRaisers and CLG in consecutive matches.  As a result, FalleN and company became the only 'Challenger' to make it into the elimination stage bracket.  They fought hard against the home team, Virtus.Pro, pushing them to a third map after a dramatic 19-17 overtime win on de_overpass.  Their Cinderella story ended here, as the Brazilians suffered a brutal 16-1 defeat on de_nuke.
Regardless of their less than satisfactory exit, Keyd Stars have displayed the heart and dedication of champions.  They have been one of the most active teams in the professional CS:GO scene over the last couple months.  This is undoubtedly paying huge dividends, as Keyd Stars have looked better as time has passed.  After gaining a solid sponsor and accomplishing a top eight finish at Katowice, there is still room to grow.  If this team can start playing as well on other maps as they typically do on de_mirage, then they will develop a more consistent form.  Once upon a time in Counter-Strike 1.6, Brazil housed the #1 team in the world.  FalleN once played for/against this team, Made in Brazil.  As the link between old school and modern Brazilian Counter-Strike, he is certainly hungry to return Brazilian CS to its former stature. This is a tall task, yet it is conceivable that Keyd Stars will be a top 10 team throughout 2015.
Where does Titan go from here?
Going into Katowice, Titan was a team that many considered a dark horse to go deep in the tournament. Kenny "kennyS" Schrub has been widely regarded as the best player in the world, while Kevin "Ex6TenZ" Droolans is considered a tactical genius.  Needless to say, their early exit on day one was a huge disappointment for the players and their fans.  Titan's tournament opener against EnVyUs on de_cobblestone was actually one of the event's most entertaining matches.  After dropping the game 16-14 against their rivals, they just appeared broken and out of their comfort zone against a less skilled Penta squad.  A 16-4 thrashing from the Germans now has Titan back at the drawing board, wondering where it all went wrong.
Back at IOS Pantamera, Titan looked amazing.  They were an absolute force, firing on all cylinders.  When this team is on their game and playing as a unit, the sky really is the limit.  The problem is that Titan is simply too inconsistent in their execution.  Outside of kennyS, there is no dependable source of fragging. This was on full display at Katowice, as the team's second best fragger, Dan "apEX" Madesclaire, failed to deliver in both matches.  With a combined 23-40 scoreline, apEX needed to step up more for Titan to have a chance at moving onto the knockout stage.
 

When the current incarnation of Titan began playing together last September, the general consensus was that it would be a long-term project.  The reason for that is because Ex6TenZ is a demanding strategist. Learning how to play under his leadership takes a great deal of time and experience.  When Titan was forced to replace Hovik "KQLY" Tovmassian with Cédric "RpK" Guipouy, their progress was significantly impeded, especially team chemistry.  This lineup has only been together for approximately three months.  As such, it is difficult to forecast how the team will choose to move forward in the aftermath of such an underwhelming Katowice appearance.  It would be wise to refrain from making any premature roster changes.  On the other hand, the addition of an old face such as Adil "ScreaM" Benrlitom or a fresh unknown talent could be the recipe for success.
Natus Vincere the first to make a move
Yesterday, Na'Vi wasted no time in announcing a roster change, effective immediately.  Stepping down as a player and becoming the manager/coach will be Sergey "starix" Ischuk.  Taking his place as a stand-in is none other than Egor "flamie" Vasilyev, who left the struggling HellRaisers squad only two days ago. Starix has been a mainstay in Na'Vi since 2009, and used to be an exceptional 1.6 player.  Clearly, Starix and Na'Vi's decision that he retire from active playing is something that has been in the pipeline for a long time.
 

Na'Vi is an organization that has always shown patience with their players.  Rather than dismantle lineups when they experience slumps, management has generally given the players time to right the ship. Keeping this in mind, Na'Vi has not changed its lineup since December 2013.  Following a prolonged stretch of poor results and another string of lackluster performances from starix at Katowice, now is the ideal opportunity to make a change.  Splitting up the core of Edward, Zeus, and starix is definitely a difficult call.  But who better to fill the shoes of a great player past his prime than the best up-and-comer in the CIS region?  Flamie is a direct upgrade over starix, and can give Na'Vi the firepower they need to return to the upper echelon of CS:GO.
Coverage is enhanced by player involvement
ESL One provided the usual high level of production that viewers are accustomed to for major CS:GO events.  While there were some minor hiccups throughout the first two days, the commentators and analysts were generally on point with their match coverage.  Guest analysts Spencer "hiko" Martin and Caper "cadiaN" Møller both offered rich insight into the tactical aspect of Counter-Strike, going a little bit beyond what a traditional eSports analyst is capable of.  The observers also did an adequate job working the in-game camera.  Finally, host Sean Charles struck a fine balance between charm and game knowledge with his questioning of players.
If there is any complaint to be made against ESL One's coverage, it is that scene regulars such as Auguste "Semmler" Massonat and Duncan "Thorin" Shields were noticeably absent.  Thankfully, this was rectified by the inclusion of eliminated competitors in the broadcast team.  Sean "sgares" Gares was the perfect compliment to Stuart "Tosspot" Saw and Anders "Anders" Blume in the grand final.  His on-the-fly explanations of Fnatic and NiP's tactics was so enjoyable that it suggests three commentator teams should become the norm.  Perhaps even more impressive was the natural casting talent of Joona "natu" Leppänen.  The recently married 3DMAX captain was terrific in his quarterfinal commentaries with Lauren "Pansy" Scott.  If he ever decides to retire, the Finnish Counter-Strike veteran will have no shortage of casting offers.
Fnatic was not the only one to make history.  All of the intense drama which unfolded in the grand final was witnessed by over 1,000,000 concurrent viewers, a magnificent milestone for the ESL One Katowice team and the CS:GO community at large.  After a dark age, the franchise continues to build steam and grow into a headline title all around the globe.  The only question is where will Counter-Strike take us next?
Headline image by Helena Kristiansson and ESL.
---
More content on GosuGamers: